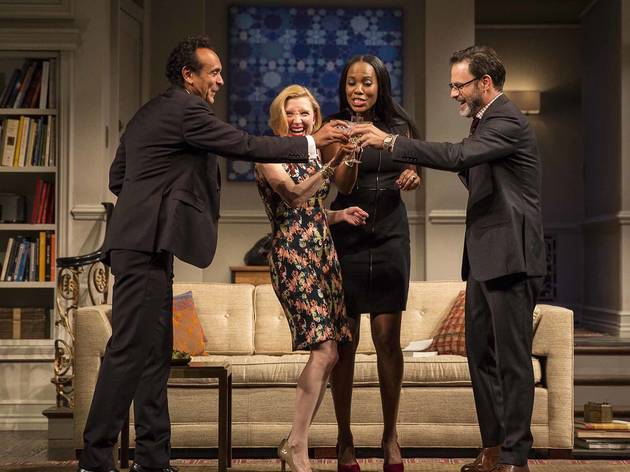 1/10
Photograph: Liz Lauren
Bernard White (Amir), Nisi Sturgis (Emily), Zakiya Young (Jory) and J. Anthony Crane (Isaac) in Disgraced at Goodman Theatre
2/10
Photograph: Liz Lauren
Bernard White (Amir), Nisi Sturgis (Emily), Zakiya Young (Jory) and J. Anthony Crane (Isaac) in Disgraced at Goodman Theatre
3/10
Photograph: Liz Lauren
Bernard White (Amir), Nisi Sturgis (Emily) and Behzad Dabu (Abe) in Disgraced at Goodman Theatre
4/10
Photograph: Liz Lauren
Bernard White (Amir) and Nisi Sturgis (Emily) in Disgraced at Goodman Theatre
5/10
Photograph: Liz Lauren
Nisi Sturgis (Emily), Bernard White (Amir) and Zakiya Young (Jory) in Disgraced at Goodman Theatre
6/10
Photograph: Liz Lauren
Bernard White (Amir) and J. Anthony Crane (Isaac) in Disgraced at Goodman Theatre
7/10
Photograph: Liz Lauren
Nisi Sturgis (Emily) and Zakiya Young (Jory) in Disgraced at Goodman Theatre
8/10
Photograph: Liz Lauren
Nisi Sturgis (Emily), Bernard White (Amir), J. Anthony Crane (Isaac) and Zakiya Young (Jory) in Disgraced at Goodman Theatre
9/10
Photograph: Liz Lauren
Nisi Sturgis (Emily) and J. Anthony Crane (Isaac) in Disgraced at Goodman Theatre
10/10
Photograph: Liz Lauren
Nisi Sturgis (Emily) and Bernard White (Amir) in Disgraced at Goodman Theatre
Ayad Akhtar's Pulitzer Prize winner returns to the city where it premiered.
Back on a Chicago stage just three and a half years after its world premiere at American Theater Company, Ayad Akhtar's tightly wound drama emerges at the Goodman slicker and more expensive looking, but also trimmer and sharper. Revisions for the New York productions that took place between 2012 and now have tamped down the sense of foreboding that hung over the original production from its earliest moments—which makes the eventual explosions all the more shocking.
As Amir Kapoor, the Pakistani-American lawyer so assimilated he's happy to let colleagues assume he's Indian, Bernard White exudes a simmering intellect that's confounded by artist wife Emily's (Nisi Sturgis) interest in Islam, which he rejected long ago. But too many drinks at a dinner party with Amir's African-American coworker Jory (Zakiya Young) and her husband Isaac (J. Anthony Crane), a gallerist with an interest in Emily's work lead conversation to confrontation as NPR-liberal facades fall away.
This scene, the play's centerpiece, ratchets up the tension slowly and carefully under the direction of Kimberly Senior, who's shepherded Disgraced through all its major productions so far. Her cast here gets every note right, even as the stereotypes and smears swirl into a threatening storm. Essentially a collection of ideological arguments embellished with soapy twists, Disgraced is remarkably graceful in execution.
Goodman Theatre. By Ayad Akhtar. Directed by Kimberly Senior. With Bernard White, Nisi Sturgis, Zakiya Young, J. Anthony Crane, Behzad Dabu. Running time: 1hr 30mins; no intermission.