Double Trouble at Porchlight Music Theatre: Theater review
Brothers Adrian and Alexander Aguilar exude talent and charm, but the material they're working with is more maddening than madcap.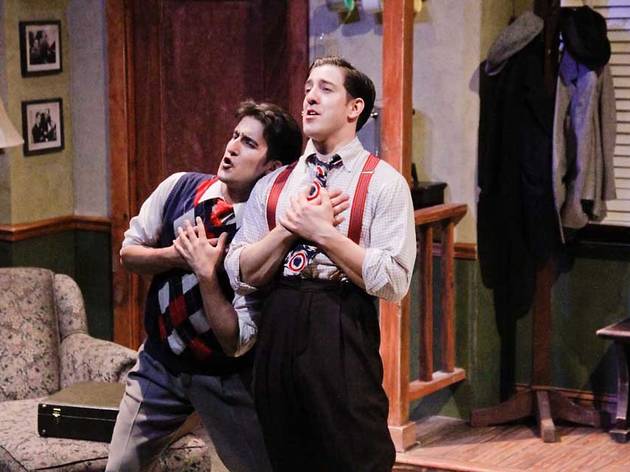 The Aguilar brothers are tremendously charming and talented triple-threats—younger bro Alexander has already made his Broadway debut, in 2011's Lysistrata Jones, and Adrian is set for his own Broadway bow this winter in the new musical Rocky. Their onstage chemistry is hard-wired, and they put their all into selling the material.

But the material is pretty low-rent. Not only is the Waltons' sense of humor pretty hopelessly (and, to be fair, unapologetically) dinner-theater corny, the show's creators made the mistake of futzing with their farcical formula. The two-actor quick-change farce can be one of the theater's greatest joys. See Charles Ludlam's The Mystery of Irma Vep, which luxuriates in the how'd-they-do-that magic of lightning-quick full costume changes, or Joe Kinosian and Kellen Blair's Murder for Two, in which the fun lies in two performers trading off piano duties while racing around the stage to suggest a room full of characters.

Double Trouble fudges by using extra actors backstage, dolled up in the additional characters' costumes and appearing behind frosted glass or with their faces otherwise hidden. There are also lots of prerecorded lines to allow the Aguilars to speak as offstage characters while they're playing another in front of us. Silly as it may sound, this all feels a bit like cheating, offering neither the thrilling practical challenges of the quick changes nor the quicksilver theatrical exhilaration of seeing a performer morph in front of our eyes. (And if the recorded lines ever had a chance of working, the less-than-ideal sound design in Porchlight's production blows it.) I'd love to see Adrian and Alexander in a two-seater vehicle that could really double down on their abilities, but this one is more trouble than it's worth.