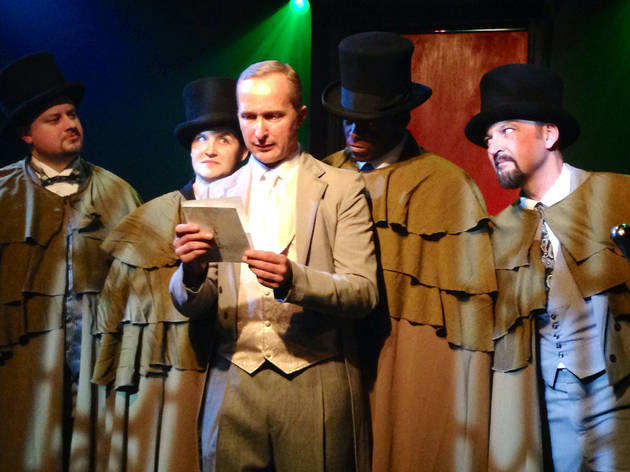 Idle Muse Theatre Company at Rivendell Theatre. By Jeffrey Hatcher. Directed by Nathan Pease. With ensemble cast. Running time: 2hrs; one intermission.
Theater review by Dan Jakes
Impropriety is the ultimate taboo in Robert Louis Stevenson's 1886 horror classic, a concept that largely went the way of tailcoats and monocles somewhere along the timeline between its Victorian setting and today's personal information–overloading society. If the Twitterverse alone weren't enough to prove secrets and image-obsession just don't give the dramatic highs they used to, just look to the country's collective shoulder shrug upon seeing Edward Snowden's NSA leaks.

Consider the hypothesis put forward by Jekyll, the socially elite, self-experimenting gentleman physician who untethers his inner demons for science: Inherent in every person is a morally-inverse doppelgänger whose urges are either given into or suppressed.

Well, of course. In Nathan Pease's American Idol-free production for Idle Muse, Stevenson's gothic parable is taken a step further by divvying up Mr. Hyde to be portrayed by a rotating cast of four opposite Dr. Jekyll (Gary Barth). It's a potentially interesting challenge, one that's been capitalized on a handful of times for excitement and laughs by the likes of former Hypocrites artistic director Sean Graney. Jeffrey Hatcher's self-serious 2008 adaptation seems headier, as it fragments Hyde into more nuanced and varied incarnations.

It doesn't follow, then, that just about everyone gives a similar, inadvertently campy depiction that's out of place with the sober, drab and fog-filled environment. The novelty that sets Hatcher's script apart from the dozens of other adaptations is the multi-casting, so why does it feel so perfunctory here when it's literally handed off through a costume person-to-person? If this is supposed to be a more layered reading of a classic story, it's not really clear what Pease is aiming for in each of the different readings.

Barth and Caty Gordon are capable as as Jekyll and Elizabeth, minimizing the more portentous period elements. It's not enough, though, to enlighten the story beyond a gloomy rehash.