Dreamgirls at Marriott Theatre | Theater review
The 1981 showbiz musical is light on story, but the infectious score is still a dream.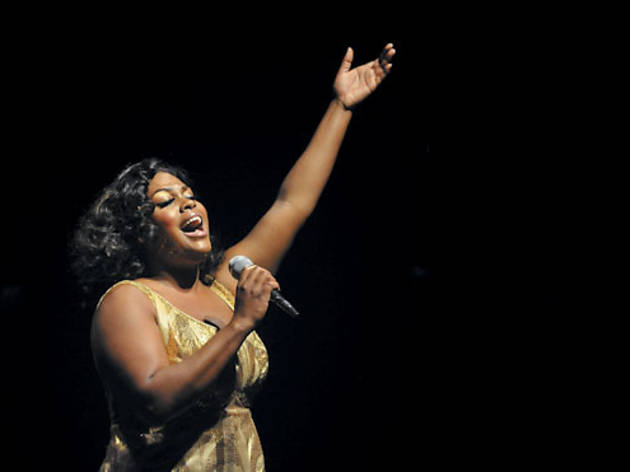 You could make a drinking game out of Dreamgirls, taking a shot every time book writer and lyricist Tom Eyen finds a new way to work the word dream into the recitative of the 1981 musical. But you'd most likely end up with alcohol poisoning. The story of a Supremes-like singing group's backstage drama isn't perhaps the most sophisticated. Our signal that ousted diva Effie (Raena White) is finally changing her ways, for instance? She sings a number called "I Am Changing."
But Henry Krieger's Motown-pastiche score is undeniably infectious, featuring such earworms as "Move (You're Stepping on My Heart)" and "One Night Only," and musical director Doug Peck mines them for all they're worth. The show also offers a trio of muscular female roles: Effie, who gets burned and bumped by the Dreams' cold-hearted snake of a manager (Byron Glenn Willis); Diana Ross–esque Deena (Britney Coleman), who moves into the lead and becomes a major star; and loyal, unlucky-in-love Lorell (Rashidra Scott). White and Scott make the most of their roles, White admirably putting her own stamp on legendary anthem "(And I'm Telling You) I'm Not Going." Coleman, though, feels miscast; her Deena remains a chirpy Disney Princess throughout, never attaining the strength or magnetism that supposedly make her an icon in Act II. Marc Robin's appealing staging makes smart use of Marriott's challenging in-the-round space, while Nancy Missimi's gorgeous costumes are—let's just go there—like something out of a dream.