1/6
Richard_Campbell
2/6
3/6
4/6
5/6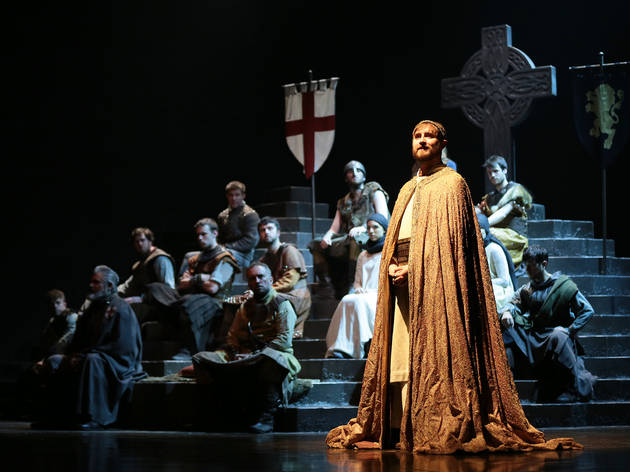 6/6
Jason@JsGraphic
David Greig makes his Macbeth sequel an allegory for military quagmires in every age.
At the end of Macbeth, the presumptive new king of Scotland, Malcolm, practically spits on the graves "of this dead butcher and his fiend-like queen, / Who, as 'tis thought, by self and violent hands / Took off her life."
Dunsinane, David Greig's considerably more recent "imagined sequel" to Shakespeare's chronicle, posits a new status quo in which Lady Mac—sane or not—in fact survived to challenge the English installation of Malcolm (the appropriately obnoxious Ewan Donald) as the new monarch, much to the consternation of Siward (Darrell D'Silva), the English enforcer.
The touring production, newly arrived at Chicago Shakespeare Theater under the auspices of the National Theatre of Scotland and the Royal Shakespeare Company, presents the aftermath of the Scottish Play as a series of political machinations that equally evokes Game of Thrones and House of Cards, but ultimately reads as an allegory to the Western incursion into the Middle East over the last 15 years: England arrives to topple a tyrant and install a new king, only to discover a bafflingly interconnected system of clans and divided loyalties that the outsiders can't hope to disentangle.
We're guided through parts of the narrative by a naive young English soldier, whose letters to his mother become evidence of his army's quagmire in the foreign land. And yet Greig and director Roxana Silbert guide us skillfully through the unfamiliar ancient history.
And if Siobhan Redmond's Lady Macbeth, a.k.a. Gruach, offers both the strongest connection to Shakespeare's play and the strongest diversion from it, Redmond's performance is so chameleonic as to fuel the whole endeavor.
Gruach repeatedly describes her family's royal emblem as a portrait of three snakes devouring a moon. And Redmond's embodiment of Gruach is just as snakelike as you could desire. Communicating with the English army, she gives her speech an undefinable accent; once she begins speaking Gaelic, it's as though her native language was Parseltongue.
The National Theatre of Scotland and Royal Shakespeare Company. By David Greig. Directed by Roxana Silbert. With ensemble cast. Running time: 2hrs 35mins; one intermission.