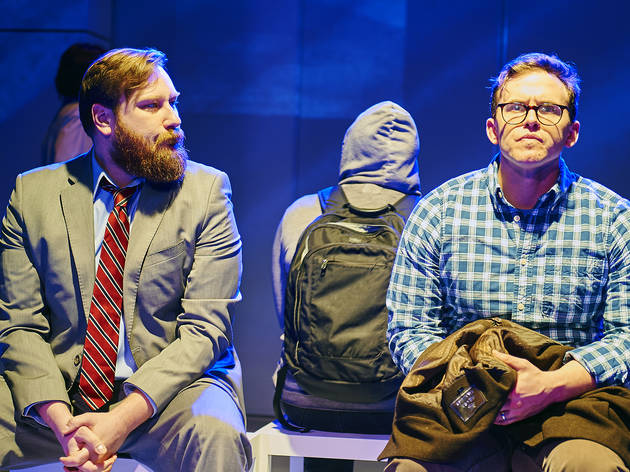 1/7
Photograph: Lee Miller
Earthquakes in London at Steep Theatre
2/7
Photograph: Lee Miller
Earthquakes in London at Steep Theatre
3/7
Photograph: Gregg Gilman
Earthquakes in London at Steep Theatre
4/7
Photograph: Lee Miller
Earthquakes in London at Steep Theatre
5/7
Photograph: Lee Miller
Earthquakes in London at Steep Theatre
6/7
Photograph: Gregg Gilman
Earthquakes in London at Steep Theatre
7/7
Photograph: Lee Miller
Earthquakes in London at Steep Theatre
Despite feeling a bit cramped, this epic tale of impending collapse still reverberates.
Though it took some time for British playwright Mike Bartlett's 2010 play Earthquakes in London to make its Chicago premiere, the timing couldn't be much better. The piece is a sprawling, contemporary epic, suffused with loneliness and anxiety. It stands on the edge of humankind's personal apocalypse and wrestles with the only question worth asking anymore: How do we go on?
For a play so steeped in current issues, Bartlett wisely keeps the lectures to a minimum, instead dramatizing a civilization on the verge of collapse through the story of a family that collapsed long ago. The family unit in question consists of three sisters and their long-lost, little-loved father. The eldest sister, Sarah (Cindy Marker), is a liberal cabinet member in the recently-elected coalition government. An awkward woman, the kind that often gets labelled as "cold," Sarah is trying to pass legislation that would restrict the expansion of air travel, all the while maneuvering between the realities of coalition government, the lure of the private sector, and the shambolic state of her own marriage. Sarah's youngest sister, Jasmine, is a hot-headed, 19-year old student who is doggedly pursuing a strategy of sheer inoculation: drinking, drugging, screwing, and generally trying to escape from how awful everything is.
The play's key figure is neither Sarah nor Jasmine, but their middle sister, Freya (Lucy Carapetyan), a part-time teacher's aide who is pregnant, massively depressed, and having vivid musical hallucinations. After her husband, Steve (Nick Horst), leaves on a business trip, she leaves her apartment and begins to wander around London in search of "one good thing." Freya might be experiencing prophesies, or a nervous breakdown, or both. Either way, she's the nexus of Bartlett's downright Beckettian dilemma for modern life: If the future seems so bad, why even bother? (On a somewhat related note: This play really enjoys holding up Coldplay as the epitome of late-capitalist, opioid dreck.)
Meanwhile, Steve is actually on his way to rural Scotland to visit the girls' father, Robert (Jim Poole), the reclusive, though world-famous, climate scientist who abandoned his daughters two decades prior following their mother's death. Since Freya's recent spiral into depression can be traced back to a visit she made to her father some months before, Steve has come to find out what he said to her. He finds a man who has abandoned all pretense of hope, whose faith in the death and destruction that climate change will bring is all-consuming.
At three hours, and with a menagerie of supporting characters, Earthquakes in London is a play that even the larger houses in town would have difficulty staging. And while director Jonathan Berry has made a valiant attempt to stage the show in Steep Theatre's relatively intimate storefront space, the play's sheer size refuses to be restrained. There are too many moments where the logistics of getting actors onstage and off in between the show's dozens of scenes cuts into the narrative momentum. The play is performed on a clean white set (designed by Arnel Sancianco) that serves as a blank canvas for designer Brandon Wardell's Technicolor lighting, with a back wall that doubles as a screen for Joseph A. Burke's many video projections—some of which are chillingly effective. Still, many scenes suffer from unfocused staging that gives a sense of unintentional dislocation—the characters don't seem to be anywhere but on a stage. The series of white rehearsal cubes that the production relies on to create much of the furniture further add to this lack of specificity.
Despite these complaints, it is impossible to say that Berry's take on the show is unsuccessful. There might not be any standout performances here—surprising for a company that delivers them as regularly as Steep does—but there are also very few weak ones. Bartlett's grand vision of a tough, hard-won hope, plucked from the belly of catastrophe, still shines through. Earthquakes in London will provide audiences no escape from their present worries about the state of, well, everything on Earth—but it gives them something even better. It gives them a way forward.
Steep Theatre. By Mike Bartlett. Directed by Jonathan Berry. With ensemble cast. Running time: 3 hrs; one intermission.