East of the Sun, West of the Moon at Coriolis Theater Company | Theater review
This muddy musical retelling of a Norse folk tale is put together with all the precision its name implies.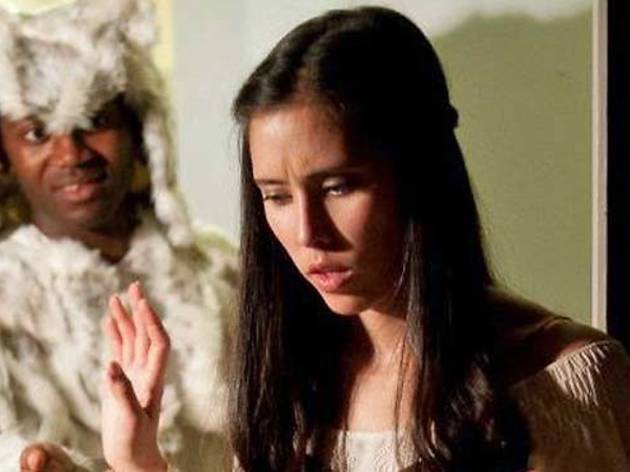 Coriolis makes its debut with this muddy musical adaptation of a Norse folk tale that, at least in this telling, is about as clear and precise as its title's directions. The rather complex narrative concerns a love story between a peasant girl and a prince disguised as a bear, the prince having entered into a bet with the evil queen to whose daughter he's unhappily betrothed. If the girl sees the prince in his true form, to which he reverts at night, he loses the wager. After curiosity gets the best of her, she spends the second act on a quest to find the queen's isolated palace and rescue her love.
The tale is narrated by the three Fates, who spend much of their time with their backs to us, futzing with their "weaving" on an upstage wall. That so much of the story is thus told rather than shown feels of a piece with Lydia Gordon's lackluster, non-character-driven lyrics, which feature blandly florid sentiments like "Please lend me your sight so I can share in your kaleidoscope world." The relationships among the characters remain stubbornly ill-defined, while important plot points crop up haphazardly. Neither Gordon's unwieldy book nor director K. Hannah Friedman's clumsy staging seem to trust their own internal logic. Christopher Dunn-Rankin's score, too, is stuck in a rut from the start, full of noodling, improvised-sounding dissonance that remains largely in a single key. At least the earnest young cast sings it well.