Eastland at Lookingglass Theatre Company | Theater review
Lookingglass's musical recounting of a Chicago maritime disaster is evocative and enthralling.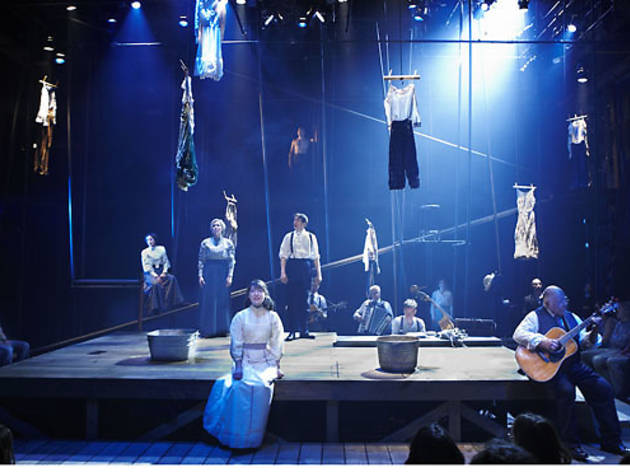 It's been a great theater season for Chicago disasters. With Eastland, the burned bodies of the Neo-Futurists' Burning Bluebeard and Lookingglass's The Great Fire are joined by those drowned on July 24, 1915, the day the SS Eastland capsized in the Chicago River. Andrew White, Andre Pluess and Ben Sussman's new musical is a chilling interpretation of the tragedy that killed 848—the greatest loss of life from a single event in the 20th-century continental U.S.
Director Amanda Dehnert and scenic designer Dan Ostling make remarkable use of the Lookingglass space to capture the catastrophe's impact. The production begins in an intimate tent where we meet the play's focal points: a schoolgirl survivor (Claire Wellin), an unhappy housewife (Monica West) looking for her lost son, and an escape artist who helps retrieve bodies (Doug Hara). As the characters board the boat, the tent creates a sense of comfort, which is broken when the ship capsizes and the tent walls collapse to reveal an expanse of scaffolding, creating the illusion of an underwater vessel. The characters burst through the stage floor and deliver monologues while dying in the river. As they float on wreckage, we see how they arrived on the Eastland, their lives flashing before us. Dead bodies are represented by wet outfits, pulled from basins and dangled above the stage. It's an eerie image, intensified by the sound of dripping water.
The actor-musicians passionately perform Pluess and Sussman's score, which evokes O Brother, Where Art Thou? and Ragtime, though the lyrics can get heavy-handed. A musical history of the Chicago River is Eastland's most rousing number, perfectly encapsulating one of the show's themes: As generations go by, nature becomes a link to the past.