Edith Can Shoot Things and Hit Them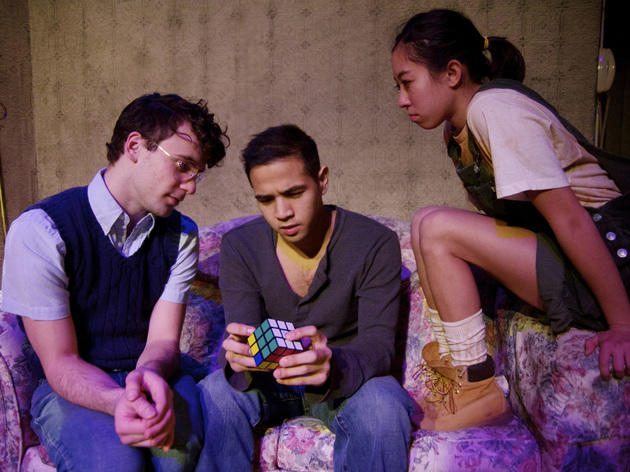 1/7
Photograph: Julia Dratel
Edith Can Shoot Things and Hit Them at First Floor Theater
2/7
Photograph: Julia Dratel
Edith Can Shoot Things and Hit Them at First Floor Theater
3/7
Photograph: Julia Dratel
Edith Can Shoot Things and Hit Them at First Floor Theater
4/7
Photograph: Julia Dratel
Edith Can Shoot Things and Hit Them at First Floor Theater
5/7
Photograph: Julia Dratel
Edith Can Shoot Things and Hit Them at First Floor Theater
6/7
Photograph: Julia Dratel
Edith Can Shoot Things and Hit Them at First Floor Theater
7/7
Photograph: Julia Dratel
Edith Can Shoot Things and Hit Them at First Floor Theater
Kids fend for themselves in an endearing adolescent fantasy/nightmare scenario
Having lost their mother to cancer and their father to survivor's guilt—he's all but abandoned their isolated old farmhouse to throw himself into work and the arms of a new girlfriend—teenage Kenny and 12-year-old Edith are left to fend for themselves. Kenny manages the household budget, drawing from occasional bank deposits their dad makes for them, while Edith serves as self-appointed security detail, keeping constant vigil with a bow and arrow or taking target practice with her pellet gun. Both maintain strong grades at school, even as they're increasingly falling asleep in class.

Edith is suspicious when Kenny starts spending more and more time with his math study-buddy-with-benefits, Benji. But when Benji's overintrusive mother finds a note he's written to Kenny expressing his feelings and kicks him out of their house, both Edith and Kenny step up to invite him into theirs. Can the three kids make a go of their newly chosen family?

The answer is probably, if the world will let them, in A. Rey Pamatmat's awfully endearing fantasy/nightmare of adolescent wish fulfillment. Set in the early '90s on "a remote non-working farm outside of a remote town in remotest middle America," Edith Can Shoot Things takes a sympathetic look at Edith and Kenny's isolation on the farm, as Filipino-Americans in the Midwest and as products of parental neglect; Kenny and Benji's budding gay relationship and its role in Benji's feeling of isolation within his own family are also explored with empathy and warmth. (As a gay kid around the same age at the time and in a similar environment, I find the ease with which they find self-acceptance a bit of wish fulfillment itself, but we're rooting for them.)

First Floor Theater's confident Chicago premiere benefits from a near ideal cast. Aurora Adachi-Winter's wise-beyond-her-years Edith recalls precociously resourceful kid sisters from Ramona Quimby to Louise Belcher; she's a spunky would-be heroine who'd likely hate to be called "spunky." Kevin Matthew Reyes's Kenny shows the strain in trying to hold everything and everyone together alongside his pride in managing to do so; he makes a confident foil for Luke Michael Grimes's lovably gawky Benji, who somehow radiates exuberance and timidness at once.

Pamatmat's plotting gets a bit mawkish in the second act, as the kids fight efforts to break them up even as they strain under the effort of feigning adulthood. But the cast and director Hutch Pimentel push through, keeping our interest and this engaging staging on target.
First Floor Theater at Collaboraction. By A. Rey Pamatmat. Directed by Hutch Pimentel. With Aurora Adachi-Winter, Kevin Matthew Reyes, Luke Michael Grimes. Running time: 2hrs; one intermission.