Elephant's Graveyard at Red Tape Theatre | Theater review
Red Tape raises the big top for a compelling true-life circus tale.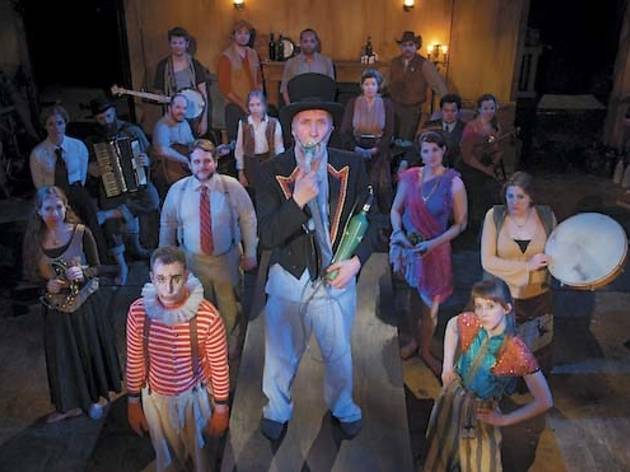 Step right up to George Brant's big-top retelling of a horrific true tale. The playwright shapes the story of a third-rate traveling circus with a five-ton star into a kind of Southern gothic, unspooling with the inevitability of a Flannery O'Connor short. Sparks's World Famous Shows lumbers through 1916 East Tennessee, riding the rails and riding on its main attraction, Mary the elephant—said to be three inches taller than P.T. Barnum's Jumbo. But when Sparks pulls into Erwin, a sleepy hamlet colored yellow with mud, tragedy is set into motion.
Brant divides his fictionalized recounting among a roughly equal number of townspeople and circus folk, each of whom speaks in first person and past tense; the effect suggests an oral history, each character recalling the action from his or her point of view. This technique could grow tedious, but director James D. Palmer's dynamic staging puts the characters in conversation with one another even as they address the audience. Emily Guthrie's impressive set design transforms Red Tape's church-gymnasium space into a shabby, dirt-caked arena, placing us above the action. Palmer adds a six-piece folk band, the New Switcheroo, whose renditions of Jonathan Guillen's indelible original score augment the vivid ensemble. Not all of Palmer's embellishments work so well—I'm still puzzling over his conception of a doomed would-be elephant trainer as something resembling Batman's foe the Scarecrow. Still, by the time his actors, the band and Brant's words combine to conjure the heartbreaking climax, you could swear there was an elephant in the room.