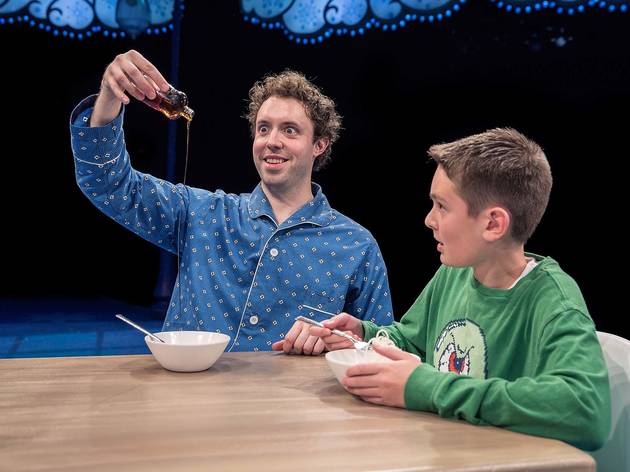 1/15
Photograph: Liz Lauren
Alex Goodrich and Cam Ezell in Elf at the Marriott Theatre
2/15
Photograph: Liz Lauren
Elf at the Marriott Theatre
3/15
Photograph: Liz Lauren
Alex Goodrich and Dara Cameron in Elf at the Marriott Theatre
4/15
Photograph: Liz Lauren
Alex Goodrich and Roger Mueller in Elf at the Marriott Theatre
5/15
Photograph: Liz Lauren
Alex Goodrich in Elf at the Marriott Theatre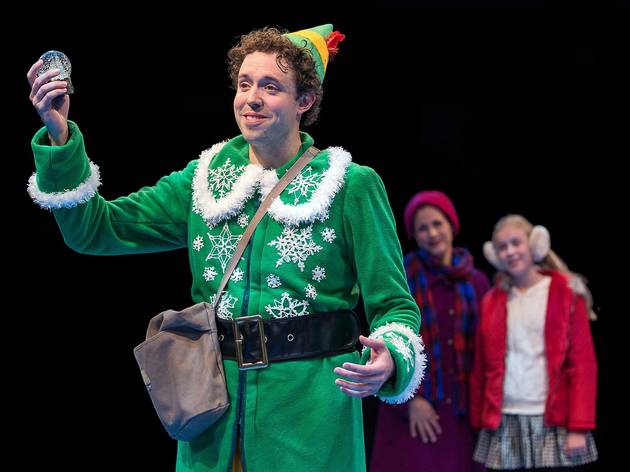 6/15
Photograph: Liz Lauren
Alex Goodrich in Elf at the Marriott Theatre
7/15
Photograph: Liz Lauren
Alex Goodrich in Elf at the Marriott Theatre
8/15
Photograph: Liz Lauren
Alex Goodrich, Dara Cameron, Susie McMonagle, Kevin Gudahl and Cam Ezell in Elf at the Marriott Theatre
9/15
Photograph: Liz Lauren
Elf at the Marriott Theatre
10/15
Photograph: Liz Lauren
Elf at the Marriott Theatre
11/15
Photograph: Liz Lauren
Elf at the Marriott Theatre
12/15
Photograph: Liz Lauren
Elf at the Marriott Theatre
13/15
Photograph: Liz Lauren
Elf at the Marriott Theatre
14/15
Photograph: Liz Lauren
Alex Goodrich, Cam Ezell, Kevin Gudahl and Susie McMonagle in Elf at the Marriott Theatre
15/15
Photograph: Liz Lauren
Alex Goodrich, Kevin Gudahl, Susie McMonagle and Cam Ezell in Elf at the Marriott Theatre
An oversized elf gets a fun-size production in the round at Marriott Theatre.
The holidays arrive in Lincolnshire with full festive force, proving that good things do come in small packages as the Broadway-sized Elf decks the halls of the Marriott's intimate theater-in-the-round with boughs of hilarity and heart.
The 2010 musical is adapted from the 2003 Will Ferrell movie of the same name. It follows Buddy, a human raised from infancy by Santa's elves at the North Pole, as he searches for his estranged family in New York City. Not surprisingly, the Big Apple is lacking in holiday spirit, and the hero the city never knew it needed has arrived.
Director and choreographer Marc Robin mostly avoids the potential snares of the musical's thinly structured narrative and overly saccharine sentiments, highlighting instead the more human moments in what could otherwise be a cartoony Christmas chronicle. In fact, the ensemble is so charming that we easily forgive the storyline's shortcomings.
Cam Ezell, the cast's youngest member, brings just the right amount of pre-teen sass to the role of Buddy's brother Michael. And it would be an understatement to say the kid can sing; in the song "There is a Santa Claus" (alongside a lovely Susie McMonagle) Ezell's tenor rings warm and clear throughout the house. Roger Mueller plays Santa with a gruff sincerity that makes us wish he had more stage time; as Buddy's jaded love interest, Jovie, Dara Cameron is a pleasant addition despite minimal material.
Alex Goodrich employs a hysterical dose of naivete as Santa's biggest helper, effortlessly landing the set-up for every joke with delightful enthusiasm and an unending supply of Christmas cheer. Despite our own holiday hang-ups, it's impossible not to root for the tall guy in yellow tights, and that ultimately is what makes the show work.
Robin's economical but impressive staging and dance numbers work well in the space, giving us just enough holiday sweetness to induce a sugar rush without the head-splitting crash of overconsumption. Considering that Buddy walked some 3,000 miles from the North Pole to New York City, the short trip to Lincolnshire is a comparably easy journey for a light-hearted evening of candy-sprinkled entertainment.
Marriott Theatre. Book by Thomas Meehan and Bob Martin. Music and lyrics by Matthew Sklar and Chad Beguelin. Directed by Marc Robin. With ensemble cast. Running time: 2hrs 5mins; one intermission.