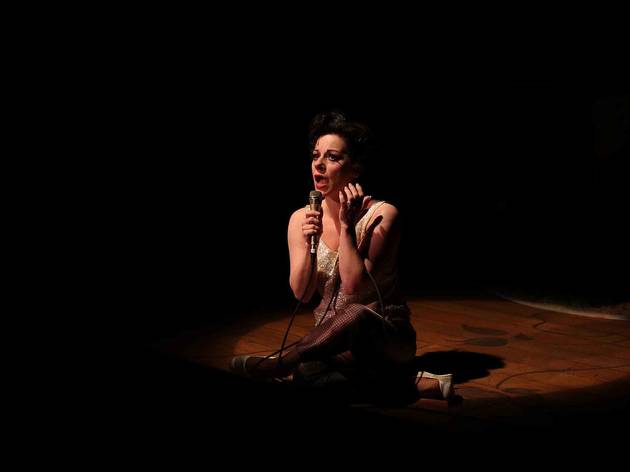 1/9
Photograph: Kelsey Jorissen
End of the Rainbow at Porchlight Music Theatre
2/9
Photograph: Kelsey Jorissen
End of the Rainbow at Porchlight Music Theatre
3/9
Photograph: Kelsey Jorissen
End of the Rainbow at Porchlight Music Theatre
4/9
Photograph: Kelsey Jorissen
End of the Rainbow at Porchlight Music Theatre
5/9
Photograph: Kelsey Jorissen
End of the Rainbow at Porchlight Music Theatre
6/9
Photograph: Kelsey Jorissen
End of the Rainbow at Porchlight Music Theatre
7/9
Photograph: Kelsey Jorissen
End of the Rainbow at Porchlight Music Theatre
8/9
Photograph: Kelsey Jorissen
End of the Rainbow at Porchlight Music Theatre
9/9
Photograph: Kelsey Jorissen
End of the Rainbow at Porchlight Music Theatre
In a knockout performance, Angela Ingersoll matches Judy Garland's devastating heights and depths.
Every once in a while, you find a piece of entertainment—a play, a movie, an opera, a television show, take your pick—that doesn't actually need to be all that good. It's not because it goes unseen, or because people will just accept something subpar. It's because the vehicle is beside the point, and it's the star that matters. Who cares what else happens? Just bask in the glow while you can.
That was the case for many a Judy Garland vehicle, and it's also true of Porchlight Music Theatre's spectacular Chicago premiere of End of the Rainbow. That's not to imply that, say, Meet Me in St. Louis isn't any good. It is, and so is Peter Quilter's 2005 play with music about Garland's waning days. Is End of the Rainbow an earth-shattering, life-changing piece of theater? Well, no. Does that matter? Not one tiny bit. The story here is Angela Ingersoll, who delivers a performance of staggering beauty that will be talked about for months, if not years, to come.
Garland (Ingersoll) and her fiancé Mickey Deans (Kyle Hatley) arrive in London in December 1968 to prepare for five weeks of concerts—a series that Deans, also Judy's new manager, believes will jumpstart her latest comeback. Awaiting them is Anthony (Jon Steinhagen, also the play's music director), a pianist who accompanied Judy in a disastrous concert years before, back for another round despite his misgivings. Only two other presences enter that hotel room: Judy's demons and the ghost of Dorothy Gale.
If it sounds like the other characters in the play mostly exist to serve Judy, that's pretty much true. Steinhagen and Hatley acquit themselves well, the former especially so, but this is Judy's play. Every moment of it belongs to Ingersoll—including the rare moments she leaves the stage to change into one of designer Bill Morey's gorgeous costumes. This is a performance that transcends imitation (though it's a splendid one), breathing vibrant, aching life into one of the most recognizable cultural figures of all time. That's true before she sings a single note.
When she does—buckle the hell up. Quilter's play is a bit inconsistent, with some scenes lacking focus and others so on-the-nose it can almost (but not quite) break the spell that Ingersoll and director Michael Weber so gently cast. But whenever the music swells, all of that's utterly beside the point. Most of the 11 songs in the play are framed as part of the concert series, giving Ingersoll the chance to capture the frequent highs and heartbreaking lows of Judy's live performances. Both are remarkable, the former perhaps more so, as Ingersoll lets loose that incredible voice as its owner fumbles with a microphone cord or forgets what she's supposed to be doing. It's tragic, fragile, and just a little bit beautiful.
Steinhagen and Ingersoll deserve no small amount of praise for the beauty of these scenes—the Act I closer in particular, which won't be spoiled for you here—but they're also responsible for the play's single most effective scene without music, in which the pair spend some time before Judy's mirror. It's a scene that epitomizes both the best and worst of Quilter's play, filled with a quiet reverence for its subject but not without a dose of heavy-handedness. Weber's touch may be lighter than the playwright's, but while the performances possess great subtlety, the production as a whole paints with a very, very broad brush.
Still, any flaws within End of the Rainbow are easy to forgive, as is the figure on whom the play centers. With such openness and vulnerability at play, so much passion and transcendent beauty, one can cherish even the blemishes. You're gonna love it, come rain or come shine.
Porchlight Music Theatre at Stage 773. By Peter Quilter. Directed by Michael Weber. With Angela Ingersoll, Jon Steinhagen, Kyle Hatley. Running time: 2hrs 20mins; one intermission.