Heads up! We're working hard to be accurate – but these are unusual times, so please always check before heading out.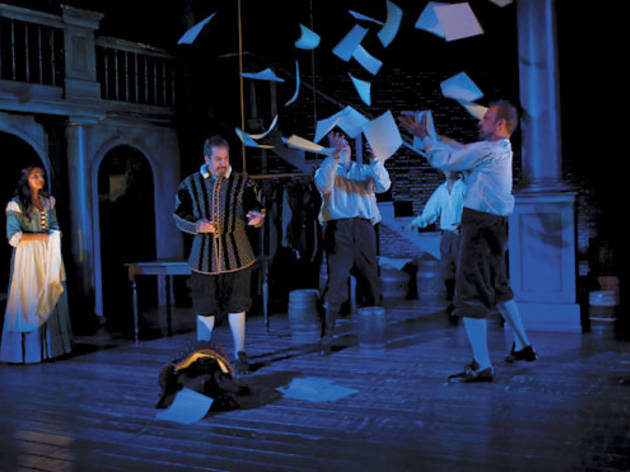 Equivocation at Victory Gardens Theater | Theater review
Shakespeare gets angsty in Bill Cain's smugly revisionist work.
Bill Cain's exceedingly self-satisfied revisionist history imagines William Shakespeare (or Shagspeare, as Cain has it for no apparent reason) being commissioned by Robert Cecil, adviser to King James I, to pen a play about the Gunpowder Plot. Cecil, of course, wants Shag (Marc Grapey) to tell the official version of the foiled plot to blow up Parliament—a propaganda piece. Working through scenarios with his company of actors, Shag begins to doubt the details. After arranging Tower visits with imprisoned accused plotters Tom Wintour and Henry Garnet, Shag knows he's being played. Garnet, a Jesuit leader who wrote a pamphlet titled "Equivocation"—advising Catholics on the art of evading questions without lying in matters of England's religious division—instructs Shag to "answer the question that's really being asked."
There's some small initial amusement in Cain's willfully anachronistic language, hearing Shag and his actor pals speaking about their 17th-century current events in modern American Sorkinese. The tone of Cain's script and the pacing of Sean Graney's production suggest the Old Globe as The West Wing. But that's not enough to sustain two and a half hours onstage. Cain's work relies far too heavily on theatrical in-jokes such as quoting Shakespeare's other works or giving his daughter, Judith (a grating Minita Gandhi), a soliloquy about how she hates soliloquies. They're devices meant to congratulate audiences on being in the club. What's missing is a real emotional core beneath the cleverness.