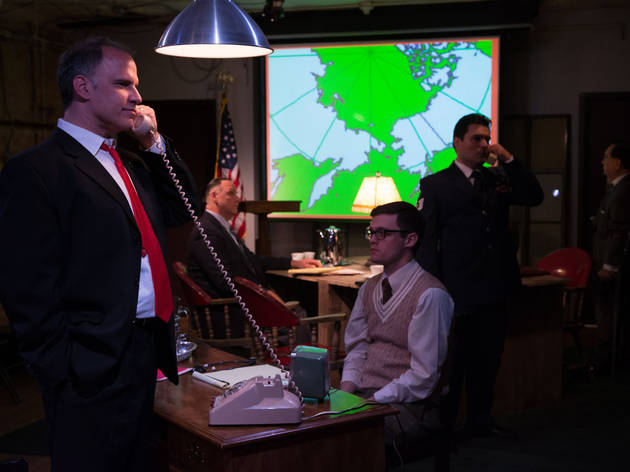 1/5
Photograph: Tom McGrath
Fail/Safe at Strawdog Theatre Company
2/5
Photograph: Tom McGrath
Fail/Safe at Strawdog Theatre Company
3/5
Photograph: Tom McGrath
Fail/Safe at Strawdog Theatre Company
4/5
Photograph: Tom McGrath
Fail/Safe at Strawdog Theatre Company
5/5
Photograph: Tom McGrath
Fail/Safe at Strawdog Theatre Company
Strawdog Theatre Company. By Eugene Burdick and Harvey Wheeler. Adapted by Anderson Lawfer and Nikki Klix. Directed by Lawfer. With ensemble cast. Running time: 1hr 10mins; no intermission.
Theater review by Dan Jakes
Eugene Burdick and Harvey Wheeler's 1962 Cold War doomsday novel was adapted twice for the screen; once in Sidney Lumet's thrilling 1964 film, which ran opposite Stanley Kubrick's similarly plotted nuclear satire Dr. Strangelove, and again for television in a 2000 CBS black-and-white event starring George Clooney, Brian Dennehy and Richard Dreyfuss, alongside a similarly A-list supporting cast.

Both classics are worth watching or revisiting, the latter if only for seeing a high bar for live network television events before the genre became a gimmicky ratings grab or a magnet for hate watching. Though the events and dialogue in Nikki Klix and director Anderson Lawfer's adaptation largely follow those in both films, it's very much its own show, in part because of what it omits.

Lawfer, who also serves as artistic director for Strawdog Theatre's Hugen Hall programming, boils the action down to 70 minutes and three spaces that coexist onstage at all times in Mike Mroch's economic but sophisticated set design: a Pentagon conference room, an Omaha intelligence bunker, and a secure White House communications room. While giving a congressman (Joe Mack) a tour of the underground air activity monitoring and defense command center, military personnel observe an unidentified flying object in U.S. territory. Over-complicated equipment, Soviet interference and automatic procedures ignite a chain of events that inadvertently sends an American squad armed with 4 20-megaton bombs toward Moscow with instructions to level the city. Once it's clear the U.F.O is innocuous, all parties responsible race against time to prevent global catastrophe and recall the rogue bombers.

Current events and tensions between Russia and the United States should draw obvious parallels, but it's the difference between today's headlines and the conversations in Fail/Safe that makes the production so relevant and sharp. Like in Arthur Kopit's 1984 dark stage comedy End of the World with Symposium to Follow, we see brilliant but destructive men playing out chess-like scenarios, most of which lead to apocalyptic endgames. Today's events, on the other hand, depressingly feel like sloppy call-and-responses. Burdick and Wheeler's novel asks the questions today's media seem to be forgetting to address.

A civilian academic (Brian Amidei), for instance, obsesses over the philosophical impossibility of "limited war." Walter Matthau's '64 performance and Hank Azaria's 2000 portrayal pin the professor as a bourgeois, out-of-touch nitwit product of the military industrial complex, but Amidei makes convincing cases in scenarios with nothing but abhorrent outcomes. Lawfer's production avoids easy answers.

Unlike in the films, both of which frequently check in with the potential innocent casualties and the soldiers following orders, Strawdog's production keeps them at a distance as concepts of conversation and blips on a screen. For the absolute hell the men in each room and the voices on speakerphone are calmly initiating, the consequences are eerily matter-of-fact and unsentimental, told mostly in the sober but guilt-ridden faces of Lawfer's excellent cast. The result feels less manipulative, and the technical language requires a forward-leaning audience engagement that heightens the tension. It's a brainy affair, and a seat-gripping one. At times, it's surreal, with the sort of topsy-turvy and critical dialogue found in Brecht's many war dramas: "A technical state of war now exists."

Tom Hickey does some particularly fantastic work as the President forced to weigh American lives against nuclear holocaust, as does Conor Burke as a young Russian translator. Hickey is an endlessly fascinating stage presence, and his subtlety is well-utilized in the cerebral role.

The production also represents a step forward for Hugen Hall, which has become a noteworthy hub of entertaining and community-driven late night shows and alternative works. With Fail/Safe, Lawfer reminds us how versatile it can be—the intimate space amplifies impactful, white-hot drama.