Farragut North at Stage Left Theatre | Theater review
Beau Willimon's depiction of outlandish campaign-trail dealings starts with tantalizing scenes of political intrigue but descends into melodrama.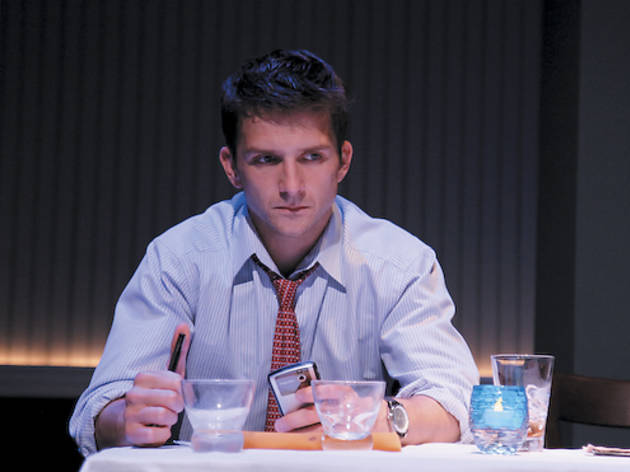 "It looks like backroom politicking," says Steve (Brian Plocharczyk), the seemingly idealistic protagonist of Beau Willimon's political backstager, of an unwanted situation he's found himself in. "Which is what it was, I guess," he quietly realizes. Steve is the hotshot young press secretary for an insurgent Democratic presidential candidate. The play's condensed action takes place in Iowa, days before the caucus, when Steve's candidate, an unseen governor named Morris, unexpectedly has a hefty lead in the polls. When Steve gets a call from the manager of a rival campaign, things rapidly spin out of his spin control.
Willimon served as a top staffer on Howard Dean's 2004 campaign, and many of the details of his 2008 play seem clearly drawn from his intimate involvement in that race (though not, presumably, Steve's fling with a 19-year-old intern). The play's first act contains plenty of thrilling details for political junkies and West Wing fans about the nitty-gritty of campaign work. A long opening scene that has Steve out for drinks with his campaign's manager (a gruff Michael Dailey), an uncomfortably chummy New York Times reporter (Sarah Denison) and an eager, baby-faced young staffer (Ian Daniel McLaren) is fantastically entertaining.
Things get murkier in Act II, when Willimon has to define his characters as human beings, not just political operatives. "You shouldn't like me, Molly," Steve tells the cipherish intern (Melanie Derleth). "I'm not a good person." That kind of clichéd dialogue typifies the play's slow fizzle. Plocharczyk, who sparkles with charisma in the play's first half, unfortunately follows the playwright's lead into melodramatic overdrive.