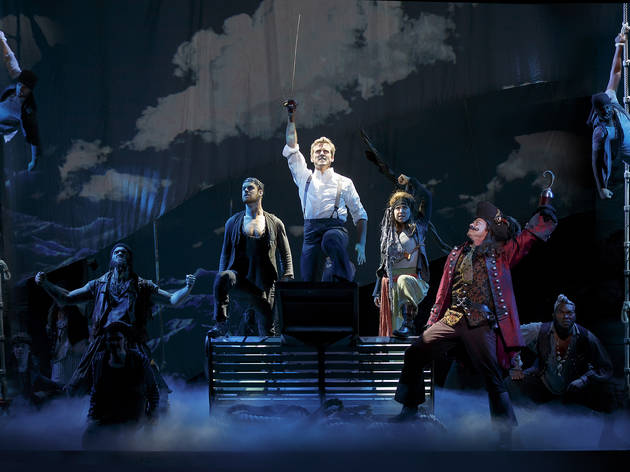 1/10
Photograph: Carol Rosegg
Kevin Kern and Tom Hewitt in the touring cast of Finding Neverland
2/10
Photograph: Carol Rosegg
Ben Krieger and Christine Dwyer in the touring cast of Finding Neverland
3/10
Photograph: Carol Rosegg
Christine Dwyer and Kevin Kern in the touring cast of Finding Neverland
4/10
Photograph: Carol Rosegg
Christine Dwyer in the touring cast of Finding Neverland
5/10
Photograph: Carol Rosegg
Kevin Kern and Tom Hewitt in the touring cast of Finding Neverland
6/10
Photograph: Carol Rosegg
The touring cast of Finding Neverland
7/10
Photograph: Carol Rosegg
Mitchell Wray, Jordan Cole, Finn Faulconer and Ben Krieger in the touring cast of Finding Neverland
8/10
Photograph: Carol Rosegg
Kevin Kern and Tom Hewitt in the touring cast of Finding Neverland
9/10
Photograph: Carol Rosegg
The touring cast of Finding Neverland
10/10
Photograph: Carol Rosegg
The touring cast of Finding Neverland
An origin story for Peter Pan's creator summons minimal magic on tour.
Baseball fans are probably familiar with the term "replacement level," which basically means the bare minimum level at which a major league player can be expected to play and still have a job. Well, if any theatergoers out there might be wondering what a replacement level Broadway musical looks like, Finding Neverland is it. It does the job, but just barely.
Based on the 2004 Johnny Depp movie of the same name (which was in turn based on the play The Man Who Was Peter Pan, by Allan Knee), Neverland is one of those "here's the story behind a famous story" deals. Namely, it's the story of how J.M. Barrie came to write Peter Pan.
The score, by pop writers Gary Barlow and Elliot Kennedy, is blandly indistinct, exactly the kind of thing you'd expect to hear from a show whose only reason to exist is to cash in on pre-existing IP. Director Diane Paulus's staging confirms this even further: It's busily, unceasingly manic, like the rapid-fire patter of a used car salesman who's trying to sell the audience a lemon. It's little surprise the musical struck out at the 2015 Tony Awards, garnering zero nominations.
Still, if you have kids, the fact that it's sort of about Peter Pan might just be enough to win them over. Oh, and also there's a real live dog in the cast—and he is a very good dog.
Barrie (Kevin Kern), a playwright, is in a bit of a mid-career slump when he meets four young brothers playing in Kensington Gardens. Barrie quickly befriends the Llewelyn Davies boys (who are played by a rotating combination of Jordan Cole, Finn Faulconer, Tyler Patrick Hennessy, Ben Krieger, Eli Tokash, and Mitchell Wray) as well as their recently widowed mother, Sylvia (Christine Dwyer).
This draws worried scrutiny from Barrie's wife, Mary (Crystal Kellogg) and the children's society maven grandmother, the imperious Mrs. du Maurier (Joanna Glushak). His imagination rekindled, Barrie sets out to write Peter Pan, much to the chagrin of American theater impresario Charles Frohman (Tom Hewitt), whose struggling theater company depends on the play's success.
At one point—in fact, it's the climax of Act I—Barrie conceives of Captain Hook (also Hewitt) in a kind of fever dream, and then the pirate gives him…a pep talk? It's a moment that makes almost no sense—which in a show that's otherwise so paint-by-numbers, it's also counterintuitively refreshing.
Cadillac Palace Theater. Book by James Graham. Music and lyrics by Gary Barlow and Elliot Kennedy. Directed by Diane Paulus. With ensemble cast. Running time: 2hrs 15mins; one intermission.