Flare Path at Griffin Theatre | Theater review
A remarkable ensemble buoys Terence Rattigan's sentimental portrait of life during wartime.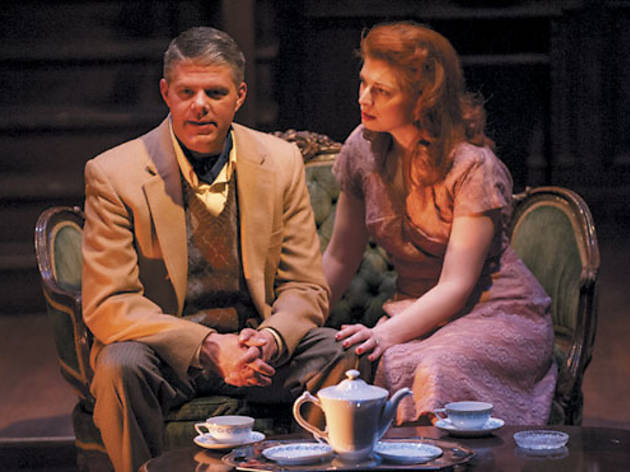 Terence Rattigan, a 20th-century master of English understatement, may have fallen out of favor in recent decades as more adventurous forms and "in-yer-face" agitation took over British drama. But Rattigan's enjoyed a mini resurgence of late, with a recent film adaptation of 1952's [node:15194236 link=The Deep Blue Sea;] earning critical plaudits for director [node:15194241 link=Terence Davies;] and actor Rachel Weisz, alongside a well-received West End staging of the earlier Flare Path, starring Sienna Miller. Griffin's new revival of Flare Path—allegedly the first Chicago production of the 1942 work—provides further evidence that Rattigan's worth a second look.
The play's set in 1940 in the lounge of a small hotel in Lincolnshire, England, adjacent to a Royal Air Force aerodrome. It's the communal gathering place for the flyboys and their wives, some permanent residents and some in for a quick visit on the weekend when the piece takes place. The usual business is upended by the arrival of matinee idol Peter Kyle (Paul Dunckel), who first claims to be passing through on a whim. It's soon revealed Kyle is here to woo back his former lover, actress Patricia (Darci Nalepa); she's newly married to a doting younger lieutenant (Joey deBettencourt) who's oblivious to his wife's prior relationship. Patricia and Kyle declare their love for one another, but their reunion is interrupted when the men are called out for an overnight air raid.
Rattigan's plotting can veer into the overly sentimental, and the final scene goes almost entirely off the rails in pursuit of a happy ending. But Robin Witt's well-cast ensemble fully commits to the old-fashioned romanticism, making for a compelling slice of life during wartime. Nalepa seems to throb with aching uncertainty about her choice, while Vanessa Greenway stands out as a blowsy barmaid who finds herself a countess after marrying a Polish pilot. She puts on a brave face as the men fly off into battle: "This is the first time you've been here for a do, isn't it?" she says by way of comforting the rattled Patricia. But her dread as she watches out the window for her husband's plane to return is unmistakable.