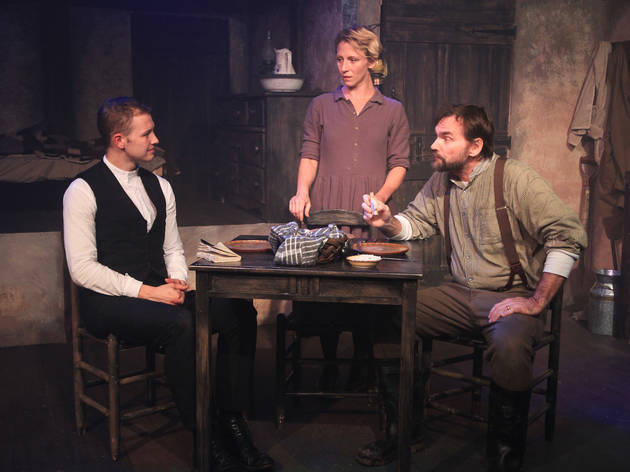 1/6
Photograph: Emily Schwartz
Foxfinder
2/6
Photograph: Emily Schwartz
Foxfinder
3/6
Photograph: Emily Schwartz
Foxfinder
4/6
Photograph: Emily Schwartz
Foxfinder
5/6
Photograph: Emily Schwartz
Foxfinder
6/6
Photograph: Emily Schwartz
Foxfinder
Dawn King's dystopian tale of a near-future England wracked by blight and hunger is rendered in remarkable detail in Interrobang's excellent Midwest premiere.
Fans of fantasy and science fiction often talk about the importance of world-building, that accumulation of detail that makes any setting, no matter how fantastical, feel like a real place. Foxfinder, by British playwright Dawn King, is one of the best examples of world-building I've seen onstage in quite some time. It introduces the audience to a version of near-future England that feels very similar to reality, and yet has that uncanny air of strangeness about it. By the time the play goes all in and reveals just how strange this world really is, you're completely invested. And in Margaret Knapp's chilling production, you don't notice how tight the play's grip around you has gotten until the moment you try to escape and it slams you to the ground.
When I say the world of Foxfinder feels like our own, I should clarify that it feels like our own minus about 100 or so years of technological innovation. The married farmers at the play's center, Judith and Samuel Covey (Alexandra Fisher and David Anthony Marshall), live without electricity or any modern convenience. The recent death of their son, plus some heavy rain storms, has ruined most of their crop. As the play begins, they are worried about not meeting their "quota" and are awaiting the arrival of William Bloor, the titular foxfinder, to assess their situation. When he does arrive, played by Jack Olin, he is but a 19-year-old boy, dressed in puritanical black and white and carrying himself with an air of calm but ominous authority. William has been sent to suss out the reason for the Coveys' poor crop; was it simple "bad management" or was it something more sinister? Could it have possibly been… a fox?
Even before the play spells it out (which it does with a welcome degree of dry humor) it's clear that whatever these people mean when they say "fox," it is very different from the mildly pesky beast that you and I are picturing. What's more, the question is raised several times as to whether foxes are not, in fact, entirely extinct. Such rumors are considered a dangerous heresy by William and the unseen government for whom he works—which is almost always a sign that they're true. An anti-fox pamphlet handed to Judith by her neighbor Sara (Alanna Rogers) might as well be a stick of dynamite. If you don't find yourself thinking about either Margaret Atwood or Caryl Churchill during this play, you have some homework reading ahead of you.
As Foxfinder unfolds, it burrows down toward its twin themes of belief and power. William's unceasing belief in the dangers of the fox is what grants him power over people like Samuel and Judith. But as Samuel comes to believe in them himself, you see the dynamics between him and William begin to shift. As William begins to doubt whether or not foxes exist—as even though he's been trained to hunt them and to detect their dark ways, he's never actually seen one—Samuel becomes the one with the true power. And yet, in one of the play's climactic moments, we see how much power has truly corrupted William's soul. Even robbed of the belief that first fueled it, he is still perfectly happy to use his power for his own personal gain. Not surprisingly, the person he uses that power against isn't Samuel; it's Judith.
Knapp's production is incredibly well-paced and tuned to the exact right wavelength. Fisher and Marshall are both fantastic, with Fisher's performance becoming ever more tightly wound while Marshall's, in contrast, becomes ever-more unhinged. (Olin's performance, on the other hand, is a bit off: His William is more like a flickering candle when he should be a butane torch.) And the show's design elements are all top-notch as well—something that isn't common from the storefront set—with Jesse Case's score and John Kelly's lights deserving special praise alongside the dead-on rain effect conjured by set designer Eric Luchen. When building a world onstage, especially a world that is both so like and unlike our own, it's details like these that count. And they're the details that Knapp and company deliver.
Interrobang Theatre at Athenaeum Theatre. By Dawn King. Directed by Margaret Knapp. With Alexandra Fisher, David Anthony Marshall, Jack Olin and Alanna Rogers. Running time: 1hr 40mins; no intermission.