Freud's Last Session at Mercury Theater | Theater review
Playwright Mark St. Germain pits Freud against C.S. Lewis in a civil debate over the question of God.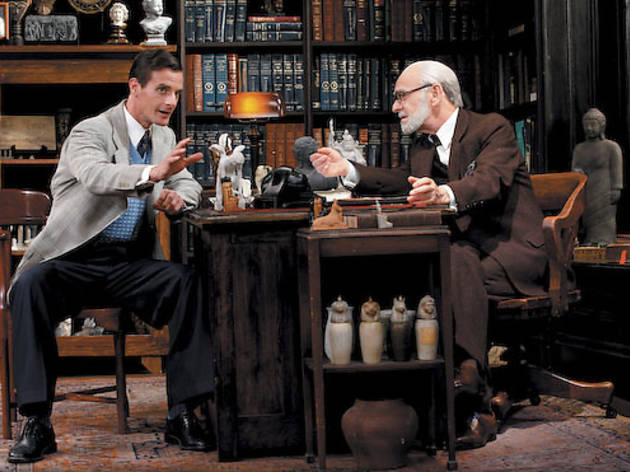 Mark St. Germain's two-hander, now transferred to the Mercury after a solid couple of years running Off Broadway, has an undeniably intriguing hook: an imagined meeting between Sigmund Freud, daddy of psychoanalysis and avowed atheist, and C.S. Lewis, Oxford academic, future Narnia creator and born-again Christian. Freud (Martin Rayner), battling late-stage oral cancer and just weeks from the end of his life, has invited Lewis (Mark H. Dold), still a rising scholar and a recent convert, to his London office. Lewis expects to be reprimanded for satirizing Freud in a recent book, but Freud has a bigger question on his mind: What brought Lewis, previously an atheist himself, to believe in the great lie that is God? Oh, and the kicker: The meeting takes place on the day Chamberlain declares war on Hitler's Germany.
The natural concern in a setup like this is talkiness, and St. Germain's dialogue can devolve to debating points, with Freud ticking off the case for reason and Lewis responding that not only must there be a God, "You don't have to be an imbecile to believe in Him." But despite the blatant contrivances required to get these men in the same room, the setting is useful; Britain's anticipation of Chamberlain's speech on the morning of September 3, 1939, provides enough dramatic tension to keep the play from feeling like a forensics tournament. Dold and Rayner, reprising their roles from the New York production, find admirable nuance in their characters' civil discourse.