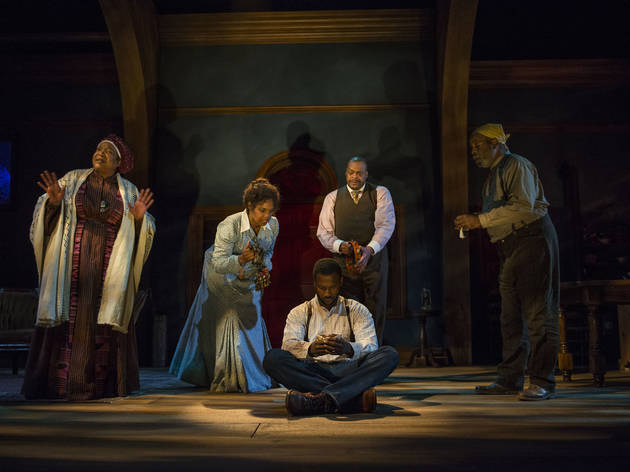 1/4
Photograph: Michael Brosilow
Jacqueline Williams, Tyla Abercrumbie, jerod Haynes, A.C. Smith and Alfred Wilson in Gem of the Ocean at Court Theatre
2/4
Photograph: Michael Brosilow
Jacqueline Williams and Alfred Wilson in Gem of the Ocean at Court Theatre
3/4
Photograph: Michael Brosilow
Jerod Haynes, A.C. Smith and Alfred Wilson in Gem of the Ocean at Court Theatre
4/4
Photograph: Michael Brosilow
Jerod Haynes, Tyla Abercrumbie and David Alan Anderson in Gem of the Ocean at Court Theatre
The 1900s installment of August Wilson's 10-play cycle isn't its crown jewel, but Court's production is packed with strong performances.
Court Theatre returns to the work of August Wilson, with Ron OJ Parson helming the earliest-set play in the writer's Century Cycle. It's Parson's 22nd Wilson production overall, and it's hard to imagine any director having a deeper, more lived-in knowledge of a playwright's oeuvre.
Set in Pittsburgh in the first decade of the 20th century, Gem of the Ocean introduces Aunt Ester (Jacqueline Williams), the sage and ancient mystic who becomes a recurring figure as Wilson's plays progress through the century. (Though Gem is the only play in which Ester appears onstage, her offstage presence looms large in several others.) Here, she assists a young man named Citizen Barlow (Jerod Haynes), a recent transplant from Alabama who's wracked with guilt and desperate to "get his soul washed."
With slavery still in the not-distant-enough memories of many of the characters here, Wilson provides much opportunity to reflect on the nature of freedom, opportunity and responsibility. Sometimes the metaphors get metaphysical, as in the centerpiece of the second act, when Aunt Ester and friends send Citizen on a spiritual journey "sailing" on a boat folded from Ester's own bill of sale into slavery.
Still, the always delightful Williams is equal parts wry, warm and wise as Ester, and surrounded by a top-notch supporting cast including the likes of A.C. Smith, Alfred H. Wilson and Tyla Abercrumbie. And Haynes, following his recent work in Native Son, The Royale and A Raisin in the Sun, continues to prove one of Chicago's most compelling young leading men.
Court Theatre. By August Wilson. Directed by Ron OJ Parson. With Jacqueline Williams, Jerod Haynes. Running time: 2hrs 50mins; one intermission.