Girl You Know It's True at Pavement Group | Theater review
A playwright blames his faltering career on the rain in Bixby Elliot's Milli Vanilli–inspired metacomedy.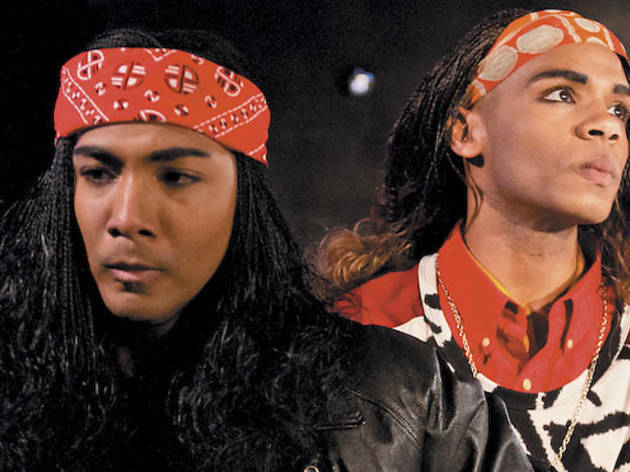 The line between fibbing and fraud turns out to be a thin one in New York author Bixby Elliot's new play, in which a playwright named Bixby (John Zinn) is faced with a frustrating lack of interest in his work. Sick of rejection letters, he submits his latest work under an assumed identity: Sid Heywood, a black, paraplegic lesbian. Bixby's flight of fancy becomes a victim of its own success when a major theater takes the bait; digging himself deeper, Bixby hires an actress (Sam Bailey) to be his stand-in. This main plot plays out in contrast to another story shown in reverse: the fall and rise of Grammy-winning lip-synchers Milli Vanilli.
There's certainly something wearyingly navel-gazing in plays about how hard it is to do plays. But in the juxtaposition of Bixby and Sam's story line with the pop group's real-life tale, Elliot gets at a broader theme of getting caught up in the mechanics of success. As eager fakers Rob and Fab, Sentell Harper and Armand Fields winningly sell both Milli Vanilli's unfortunate tale and their music-video choreography. But Elliot's direct-address interludes with other notable "imposters," from J.T. LeRoy to Kim Kardashian, muddy the waters. With the pop duo's story, Bixby/Sid's career woes and Bixby's troubled relationship with boyfriend Paul (Keith Neagle), the threads become too many. That David Perez's use of the Chopin Theatre's basement space places much of the action seemingly miles away from the audience doesn't help.