Girls Night: The Musical | Theater review
For a show being marketed to "girls night" crowds, this half-assed karaoke tuner sure doesn't seem to like "girls."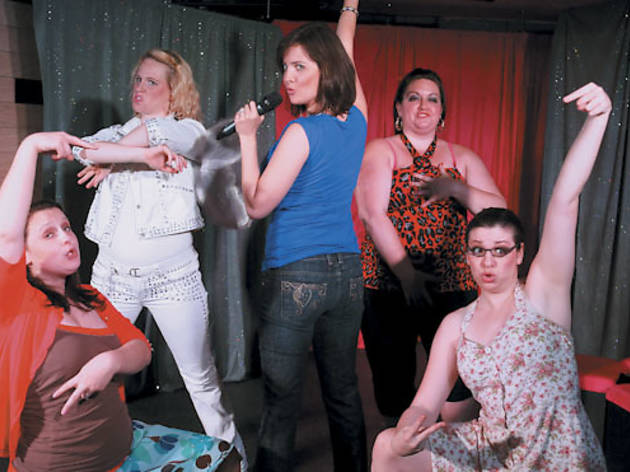 Midway through Girls Night: The Musical, I was reminded of a line from the Rumpus's review of a recent blockbuster: "If you go to the theatre without your brain…The Help is a good movie." Temporarily vacant craniums would be one way to explain the laughter and apparent pleasure of the audience surrounding me at Girls Night: Surely they'd left their brains in the glove compartment. Or were really drunk. Or both? How else to enjoy this clunky, underwritten musical revue portraying "women" from party girls to cougars to manic-depressives—if we can identify real female experience beneath such clichés—as wretched, hopeless human beings who sing and dance?
The plot, such as it is, involves a ghost narrator who died young after giving birth to Candy Rose—whom we inexplicably never meet. The five "friends" she watches over hate and humiliate each other throughout the play, highlighted by jokes about vibrators, orgasms and Prozac, and sight gags ranging from vibrators to blow-up dolls to muff wigs and Spanx. (A dress tucked into Spanx gets a lot of play here. I'm not kidding.)
Staged in a basement bar on Division Street in the heart of the Viagra Triangle, Girls Night is clearly an excuse to have talented-enough actresses perform various female anthems, from "I Will Survive" to "Girls Just Want to Have Fun," for gaggles of drunken bachelorettes and, yes, "girls" out for the night. Still, the creators might have tried harder. One imagines cynical producers riding lazily on the success of chick flicks like Bridesmaids and Sex and the City, both of which, by comparison, seem profound.