Goodbye Cruel World at Strange Tree Group | Theater review
An unemployed Russian finds his threatened suicide the subject of a bidding war in this comic revamp of a Stalin-era satire.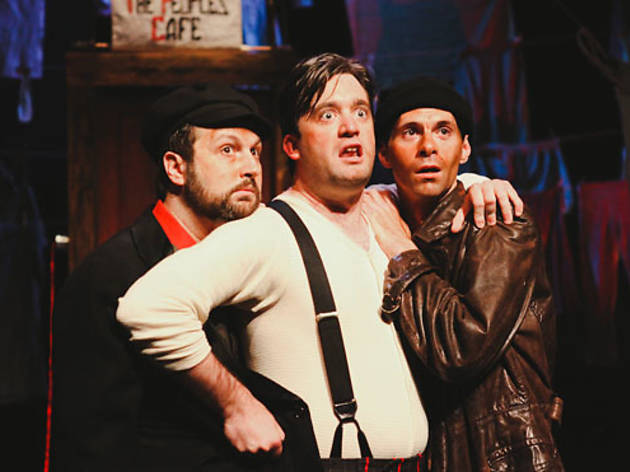 For this smart 2010 satire, Robert Ross Parker, co–artistic director of New York's daring downtown troupe Vampire Cowboys, adapted Russian writer Nicolai Erdman's 1928 piece The Suicide—an absurdist comedy championed by Stanislavski but stifled by Stalin. Our earnest hero, Semyón Semyónovich (goofball everyman Scott Cupper), is despondent at the impossibility of finding a job in a so-called worker's paradise. His wife becomes convinced Semyón's a suicide risk; when word gets around the neighborhood, Semyón finds himself popular with a number of factions that hope he'll dedicate his suicide to them.
Parker boils down the play's 20-some characters for a cast of six, and much of his play's loopy comedy comes from the actors' frantic quick changes. Director Bob Kruse gleefully parades them through the ever-slamming door at the center of the whimsical set (team-designed by Kruse, Delia Baseman, Kate Nawrocki and Emily Schwartz). But the playwright retains much of Erdman's real bite. Courted by Russian intelligentsia, clergy, actresses and opportunists who all want to be named in his suicide note, Semyón realizes the Soviet state has made him more valuable in death than in life, even as he finds himself unable to go through with the final act (Cupper's pas de deux with his pistol is priceless stuff). At moments, Parker's farcical treatment feels too much at odds with the righteous anger behind Erdman's original; the author got shipped off to Siberia for his writings, after all. But if comedy is tragedy plus time, Strange Tree's production is worth a hello.