Goodnight Moon at Chicago Children's Theatre | Theater review
Alex Goodrich captivates kiddos in this colorful adaptation of Margaret Wise Brown's bedtime classic.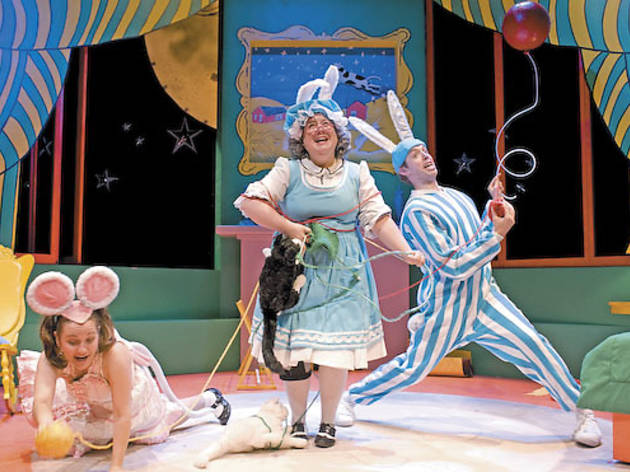 Chad Henry's musical adaptation of the Margaret Wise Brown bedtime classic crams more sight gags, puns, dance numbers and extraterrestrial travel into one sitting than any number of back-to-back SpongeBob SquarePants episodes, and shares that show's dual appeal for kids and adults. Bedtime-skirter Bunny (Alex Goodrich), mother-figure Old Lady (Sara Sevigny) and troublemaker Mouse (Becky Poole) zip young auds through a one-hour singing and dancing romp in Bunny's magical green room.
The vibrant set, utilizing the Crayola palette of the original tale, is gorgeous: Designers Jacqueline and Richard Penrod deftly elevate Clement Hurd's meticulous illustrations to a three-dimensional wonderland. The room's accessories morph and move throughout the show. As Bunny, Goodrich is aces at engaging the kids, playing off their energy and improvising reactions to the occasional fidgety outburst.
The serene projection of the moon at the close of the show is its only calm moment; even a seemingly smooth trip to outer space amid dancing constellations ends in a neon, techno-driven rave. That moon makes the perfect nightcap to counteract the caffeine buzz.