Gruesome Playground Injuries at Rasaka Theatre Company | Theater review
Rajiv Joseph's affecting play follows a pair of friends across three self-destructive decades.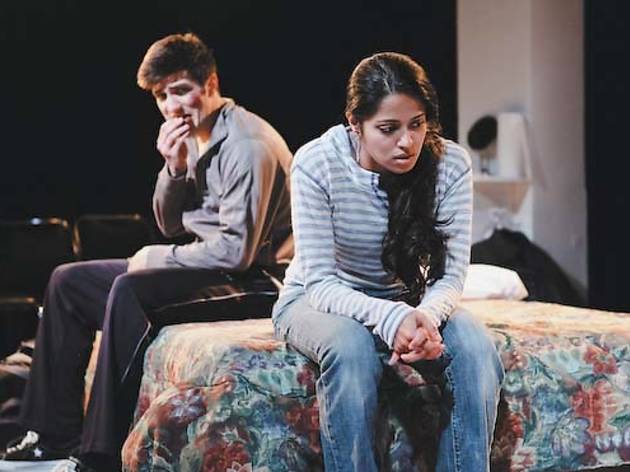 Doug and Kayleen are lifelong friends who get hurt a lot. Like, a lot. In the 30 years covered by Rajiv Joseph's 2009 play—spanning the protagonists' lives from ages 8 to 38—Doug rides his bike off a roof, loses an eye in a fireworks accident, falls off a telephone pole and gets struck by lightning, among other misadventures. Kayleen, meanwhile, is prone to psychic and emotional injuries: She cuts herself on purpose, has cruel parents, pops pills and drinks too much. Clearly, the two of them are a match made in the ICU. Skipping back and forth in time, Joseph depicts their halting and frequently thwarted attempts to heal each other.
This could all get very emo, but Joseph (best known for Bengal Tiger at the Baghdad Zoo, which was short-listed for the Pulitzer Prize in 2010) maintains a buoyant tone throughout. He displays a special talent for blending heavy themes with a playful quirkiness that stops just short of being too cutesy. His script is well-served by Lavina Jadhwani's fleet and funny production, which features a spare, blue-and-white scenic design (by Roger Wykes) that alternately suggests a hospital room and a hockey rink.
Mouzam Makkar's Kayleen has too much poise to be convincing as either a kid or a basket case, but she does have lots of chemistry with Tim Martin's Doug. It's Martin who stands out, subtly conveying the masochistic streak underlying Doug's boyish daredevilry.