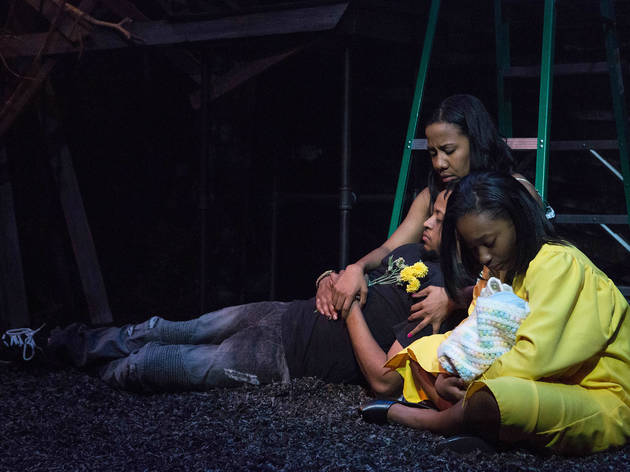 1/6
Photograph: Claire Demos
Hang Man
2/6
Photograph: Claire Demos
Hang Man
3/6
Photograph: Claire Demos
Hang Man
4/6
Photograph: Claire Demos
Hang Man
5/6
Photograph: Claire Demos
Hang Man
6/6
Photograph: Claire Demos
Hang Man
Time Out says
An overabundance of tones and styles spoils this promising play about racial violence.
Playwright Stacy Osei-Kuffour opens Hang Man with a challenge: the image of a black man (actor Gregory Fenner) hanged by a rope. It's shocking and defiant, a seeming promise that this play is going to tackle America's history of racism and racial violence head on.
So it's equally startling when Hang Man doesn't really do that, because the play's interests seem to lie elsewhere. It's a much more playful and odd thing: a mixture of wacky small-town Mississippi dark comedy and surreal tone poem on race and inheritance. Even the story of how Darnell ended up hanging from the tree is not what you expect. At first it seems like a joke, but then the play circles back around and clocks the audience from behind.
The play's other black characters, including his sister Sage (Jennifer Glasse) and her daughter G (Mariah Sydnei Gordon), are affected by Darnell's death, but they are even more affected by the man he was in life. The play's white characters, on the other hand, aren't affected by his death as much as by the existence of his dead body. Margarie (Angela Morris), an emotionally disturbed local, falls in "love" with Darnell, co-opting his oppression and mixing it together with her own. (She's a victim of the foster care system, and also of men in general.)
Margarie's boyfriend Archie (Paul D'Addario), on the other hand, only worries about how reporting Darnell's body could make him look given his other recent run-ins with the law. His callousness is due in vast part to his being an Olympic-level racist. Even a local cop, Wipp (Andy Fleischer), seems horrified by Darnell's corpse but is far more worried about its effect on Margarie. He's her secret lover, you see, and also Archie's best friend.
Hang Man's mix of tones and styles add up to something wholly uncanny, but never quite cohere into anything substantial. Darnell talks to us from his place up in the tree, and he also talks to G when she comes across him. Meanwhile, Margarie buys an Afro wig to try to get closer to Darnell and also claims to be carrying his child—a claim that is strangely born out by her rapidly expanding belly. The play operates with a mixture of dream logic, realism and outsized satire that proves to be immiscible.
And it doesn't seem like director Jess McLeod can quite make sense of it all either. Her production contains some standout performances (Morris in particular) and a truly great set by Arnel Sancianco, all looming wood walls and dirt floor with Darnell's tree evoking a medieval gallows. But the show is awkwardly staged and it stumbles from scene to scene, never finding solid ground. After that shocking first image, Hang Man can't figure out what to do next.
The Gift Theatre. By Stacy Osei-Kuffour. Directed by Jess McLeod. With ensemble cast. Running time: 1hr 20mins; no intermission.
Details
Users say