Hank Williams: Lost Highway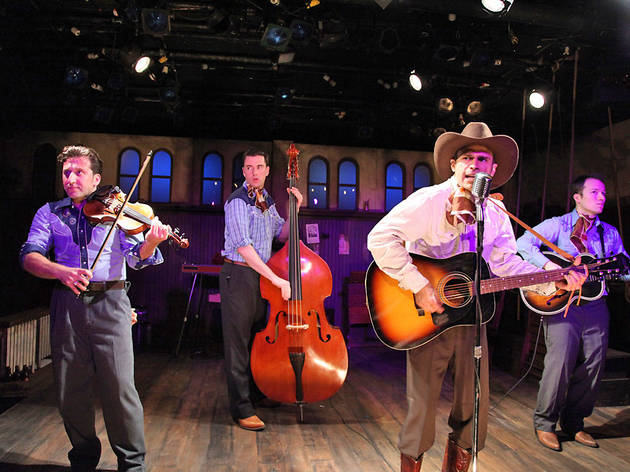 1/4
Photo: Johnny Knight
Greg Hirte, Austin Cook, Matt Brumlow and Michael Mahler in Hank Williams: Lost Highway at American Blues Theater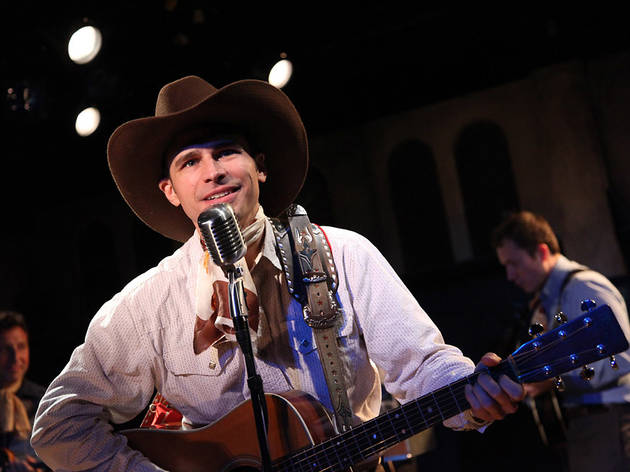 2/4
Photo: Johnny Knight
Matthew Brumlow in Hank Williams: Lost Highway at American Blues Theater
3/4
Photo: Johnny Knight
Matt Brumlow and John Crowley in Hank Williams: Lost Highway at American Blues Theater
4/4
Photo: Johnny Knight
Matt Brumlow in Hank Williams: Lost Highway at American Blues Theater
American Blues Theater at Greenhouse Theater Center. By Randal Myler and Mark Harelik. Dir. Damon Kiely. With Matthew Brumlow. 2hrs 30mins; one intermission.
Theater review by Kris Vire
Randal Myler and Mark Harelik's 1987 stage biography of the seminal country & western crooner Hank Williams falls somewhere on a spectrum between Jersey Boys and Million Dollar Quartet in its style of storytelling. The facts of Williams's life are half-staged, half-narrated in direct address by characters including his controlling mother, composite representatives of his backup band, the Drifting Cowboys, and a fictional diner waitress who serves as fan stand-in. And like both of those later shows, Lost Highway exists more in service to Hank's music than his history.

Like many works in this genre, the piece tends to tick off facts without investigating them much. We're told of "the darkness within" Hank, but no effort is made to explore its origins; the waitress (a rich comic turn by Dana Black) testifies to Williams's popularity, but no one thinks to question why the singer hit such a nerve. Instead, we're shuffled along past the key markers: chronic back pain, marriage to Audrey (Laura Coover), introduction to music exec Fred Rose (James Leaming), hitting his debut on the Grand Ole Opry stage just in time for intermission; come back for his substance-abuse fueled downfall in Act II.

Still, for the roteness of the script, Damon Kiely's handsome production does seem to get at its hero's fiber. Matthew Brumlow's embodiment of Williams is all shifty-eyed searching, somehow combining hurt puppy and hunter. And the main attraction—the music, performed live—is re-created with great skill and care. Having both Austin Cook and Michael Mahler, two of the finest theatrical musicians working today, on hand as narrating band members is truly an embarrassment of riches. (Greg Hirte and John Foley round out the Drifting Cowboys, with John Crowley also providing fine musical support as Hank's blues-singing mentor Tee-Tot.) And Brumlow admirably approximates Williams's unique, piercing vocal style without sounding like an impressionist. The script may sometimes seem like it's cheating, but American Blues Theater's production has the right heart.