Hedwig and the Angry Inch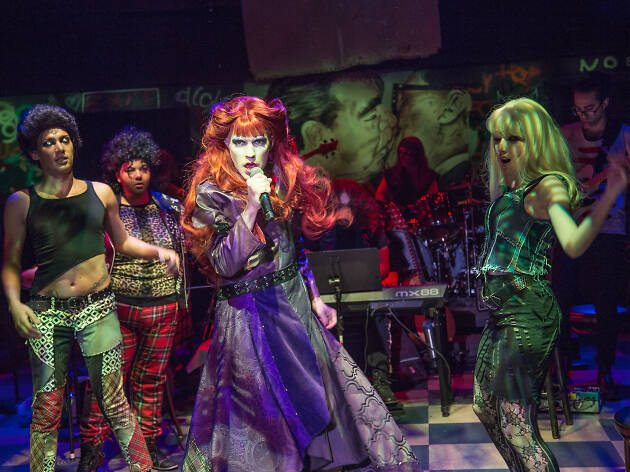 Time Out says
Theo Ubique Cabaret Theatre has built its success on taking large-scale musicals and shrinking them down to storefront size. But with this rip-roaring revival of John Cameron Mitchell and Stephen Trask's Hedwig and the Angry Inch, director Toma Tavares Langston delivers a show that's perfectly tailored to the company's intimate Evanston digs. This rock musical has always had an in-your-face quality to it, but in a theater like Theo Ubique—decked out by designer Colt Frank to look like a grungy rock club—it's actually in your face. When Hedwig scream-sings about the injustice of the mangled mound of flesh hanging between their legs, you don't just feel the anger; you have to wipe away the spit.
Playing the evening's eponymous genderqueer rocker, Will Lidke is an explosive mix of bile and beguile, strutting around the stage and hurling insults at Hedwig's husband and former drag queen, Yitzhak (Brittney Brown), while lamenting the massive concert being performed by their ex-boyfriend, Tommy Gnosis, next door. Updates to Cameron Mitchell's script include cracks about the unlikelihood of Hedwig performing in a place like Evanston in the first place. The show's most Evanstonian touch is a Pride flag dress that rings false amidst Bob Kuhn's otherwise fabulous costume pieces—the sanitized, respectable ideals of Pride Month are worlds away from Hedwig's oh-so '90s dirtbag charm.
Throughout the 90-minute show, Hedwig vomits up their life story, and the big moments are punctuated by song. Born in East Berlin to a German mother and an absent G.I. father, young Hedwig grows up loving American music and boys—neither of which really fit their bleak Soviet surroundings. When an American soldier offers to take Hedwig west, it comes at the price of a sex-change operation. The surgery is horribly botched, leaving Hedwig with nothing but the titular "angry inch." Left to rot in a Kansas trailer park, a lonely Hedwig falls in with the son of a local army general. It's their hot and heavy collabo—mixing both rock and romance—that leads to the birth of Tommy Gnosis and Hedwig's current state of shambolling marginalization.
While most productions of Hedwig feature only two performers, Langston doubles his cast size with two backup singers (Jacob Gilchrist and Adriana Tronco), who take on many of the other roles normally performed by Hedwig. While this choice makes the show less of a single-actor tour de force, it also ups the musical ante. With an amped-up rock band playing in such close quarters, Trask's songs pop with the force of a pipe bomb. And when mid-show stunner "Wig in a Box" brings down the house, it's a moment of pure, inflammable bliss.
Theo Ubique Cabaret Theatre. Music and Lyrics by Stephen Trask. Book by John Cameron Mitchell. Directed by Toma Tavares Langston. With Will Lidke, Brittney Brown, Jacob Gilchrist and Adriana Tronco. Running time: 90 minutes. No intermission.
Details
Users say