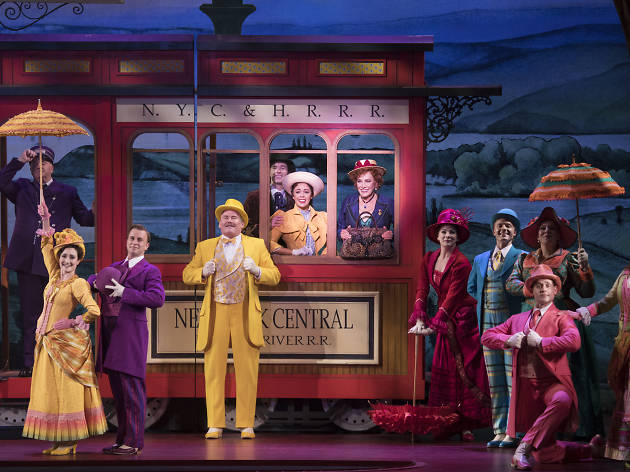 In a revival that's light on surprises, Hello Dolly!'s greatest strength is also its most obvious: Betty Buckley. At a spry 71 years old, the Broadway legend is easily up to the task of inhabiting one of the greatest, grandest dames in American musical theater: turn-of-the-20th-century matchmaker Dolly Gallagher Levi. While the part's vocal demands sometimes get the best of her, Buckley is much too good to let that get in her way. She powers her way through Hello, Dolly! on the strength of her supernova charm.
As for the rest of the thing: One can't say it's subpar, but it's stubbornly old-fashioned. Despite a crackerjack lead cast, director Jerry Zaks's revival is practically a museum piece, albeit a handsome one that may appeal to a fans of classic show-tune craftsmanship. It's the theatrical equivalent of Werther's Original candies—and some people genuinely like those, too.
Still, this touring production feels half a beat behind the music. Dolly's sly pursuit of the curmudgeonly Yonkers half-a-millionaire Horace Vandergelder (Lewis J. Stadlen) and the big-city adventures of his country-mouse employees Cornelius (Nic Rouleau) and Barnaby (Jess LeProtto) are engaging enough. But big numbers that are intended to rouse seem drowsy instead; aside from the thrillingly chaotic second-act farce at the Harmonia Gardens restaurant, Warren Carlyle's throwback choreography—a tribute to the original work of Gower Champion—lacks oomph. At least Santo Loquasto's Tony Award-winning costumes look as vibrant and gorgeous as they do expensive.
Thank goodness for Analisa Leaming and Kristen Hahn, who spin gold out of straw as millineress Irene Molloy and her assistant, Minnie Fay. In the B and C romantic plots, their comedic chops and fizzy chemistry with Rouleau and LeProtto (who are also wonderful) threaten to steal the show. They wring every laugh they can from the show, but there aren't very many to spare. Even the biggest hard-candy aficionados may balk at one that's covered with this much dust.
Hello, Dolly! never feels more alive than when Buckley ignores it altogether and simply works the crowd, winking the night away and ginning up extra applause. For a production that originally had Bette Midler in the title role, this not only appropriate but desirable. Even when the show itself falls flat, Buckley is able to carry the evening off on her own, giving audiences a chance to warm their hearts in the glow of a genuine star.
Oriental Theatre. Music and Lyrics by Jerry Herman. Book by Michael Stewart. Directed by Jerry Zaks. With Betty Buckley, Lewis J. Stadlen, Nic Rouleau, Analisa Leaming, Jess LeProtto, Kristen Hahn. Running time: 2hrs 35mins. One intermission.