Hero at Marriott Theatre | Theater review
A comic-book fan kicks his quarter-life crisis in Aaron Thielen and Michael Mahler's light new musical.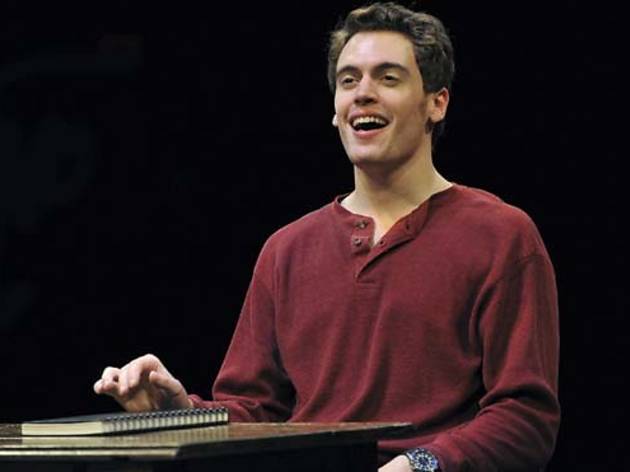 "Who is the richest superhero? Bruce Wayne or Tony Stark?" Two Milwaukee comic-shop denizens debate the question in Aaron Thielen and Michael Mahler's new lite-rock musical. Action-comics follower or not, you have to admire an art medium that can create a rich enough universe to make decades of arcane, backlogged character trivia not only fascinating, but seemingly consequential. For depressed twentysomething Hero (Erich Bergen, charming as the titular handsome hermit with a heart of gold), it's a universe free of the sober banality of running the day-to-day operations of his father's comic shop and the reality that neither he nor his dreams of being an illustrator are getting any younger. (The answer, by the way, is Marvel's Black Panther, proprietor of the world's largest stockpile of vibranium—obviously).
Accompanied by PG-rated mischievous wingman Alex Goodrich (bringing disarming aw-shucks warmth to a schlocky comic relief role), Hero rekindles an old romance with his ex (Heidi Kettenring) as he sets out to get out of his head and into the drawing desk. Marriott advertises its new musical as "an extraordinary story of an ordinary guy," which is fitting enough—existential crises of the young have had a long run in alternative comics, ameliorated by the likes of Daniel Clowes and Charles Burns—but Thielen and Mahler's Big Bang Theory–style light touch doesn't quite attain the gravity its material suggests. Where it falls short on stakes or consistent plotting, though, director and choreographer David H. Bell's cast shines with giddy nerdery, enlivening Mahler's bright score with the sort of earnestness you'd expect from a gang of adults that appreciates the funny books.