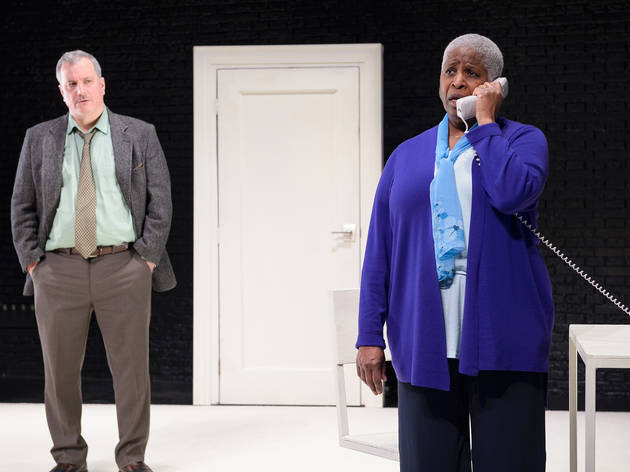 1/6
Photograph: Michael Courier
Hillary and Clinton at Victory Gardens Biograph Theater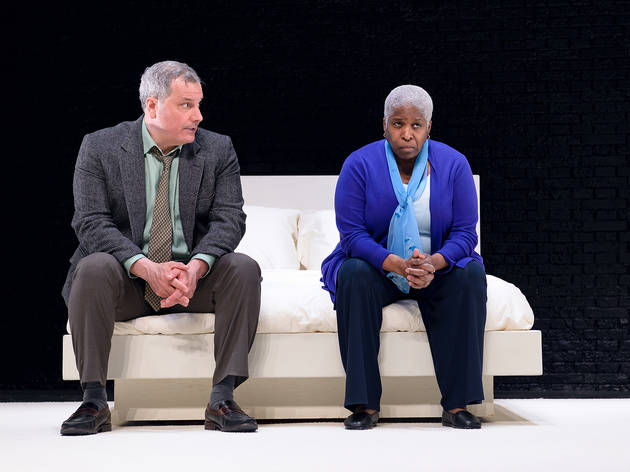 2/6
Photograph: Michael Courier
Hillary and Clinton at Victory Gardens Biograph Theater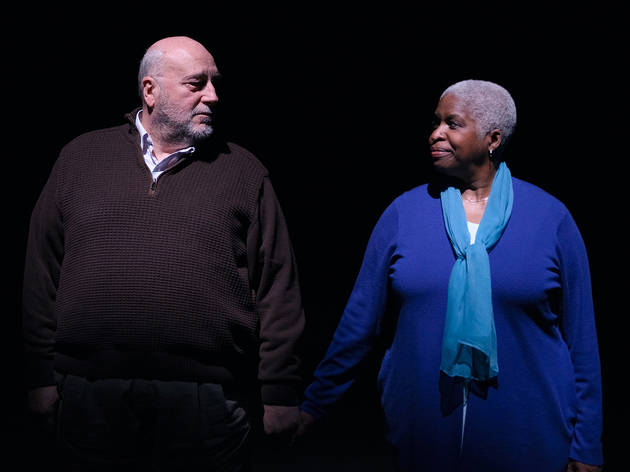 3/6
Photograph: Michael Courier
Hillary and Clinton at Victory Gardens Biograph Theater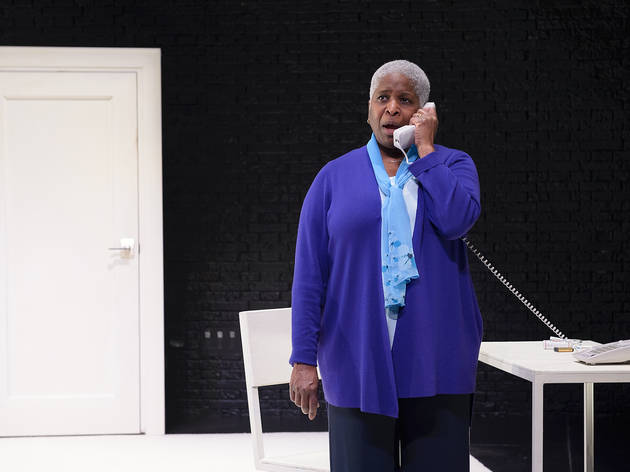 4/6
Photograph: Michael Courier
Hillary and Clinton at Victory Gardens Biograph Theater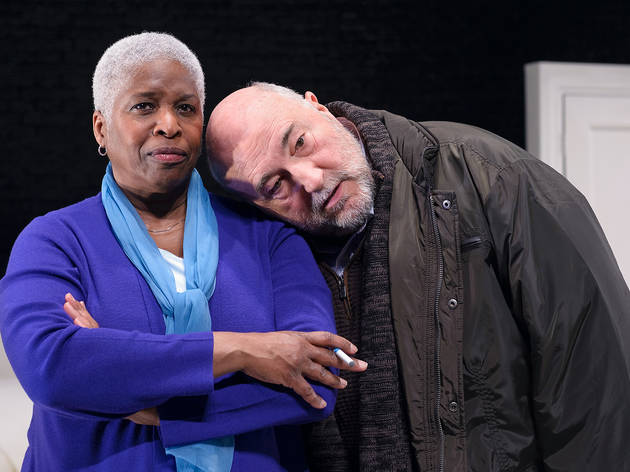 5/6
Photograph: Michael Courier
Hillary and Clinton at Victory Gardens Biograph Theater
6/6
Photograph: Michael Courier
Hillary and Clinton at Victory Gardens Biograph Theater
Lucas Hnath takes us behind the pantsuits of some other Hillary in another 2008 presidential primary.
Before the start of Lucas Hnath's new work, which is somewhat more interesting than it is engrossing, the Victory Gardens stage is nearly bare. Then the cast and members of the crew appear, to roll out a large rectangle of white carpet and roll into place two white door units, a white bed and a white desk—a hyperminimalist representation of a New Hampshire hotel room. Actor Cheryl Lynn Bruce crosses directly downstage to address us about the infinite nature of the universe, and thus the infinite potential for other Earths, which might contain other women named Hillary, running for president in 2008. Think of her character, Bruce gently implores us, as one of those other Hillarys.
In other words, Hnath and director Chay Yew are doing everything in their power to remind us that this is only a play—not a satire or a speculation about our Hillary, but a thought experiment about a woman in a position like hers in the days before the New Hampshire primary in 2008, which Clinton unexpectedly won despite trailing Barack Obama by double digits in that week's polls. Even the casting of Bruce, who's African-American, as Hillary, and Latino actor Juan Francisco Villa as "the other guy" (a.k.a. Obama), casting director Monty Cole told the Reader recently, is a way of subverting our impulse to look for our Hillary and Barack in the characters.
The scenario Hnath imagines for those characters, who also include Hillary's husband Bill (John Apicello), with his own familiar errors and indiscretions, and Mark (Keith Kupferer), a deferential campaign manager, is too steeped in backroom political machinations to reveal much here. Its examination of what a race and stakes like this could really mean to a woman in a position like Hillary's—not politically or professionally so much as personally and psychologically—should be thought-provoking for current supporters of any (or no) candidate. (Yes, even that one.) But some of Hnath's and Yew's distancing techniques, which include heightened language spoken with flat affect along with an often self-consciously static staging—can put us too far out of arm's length. As Bruce's Hillary says, almost there but just out of reach is not a great place to be.
Victory Gardens Biograph Theater. By Lucas Hnath. Directed by Chay Yew. With Cheryl Lynn Bruce, John Apicella, Keith Kupferer, Juan Francisco Villa. Running time: 1hr 15mins; no intermission.