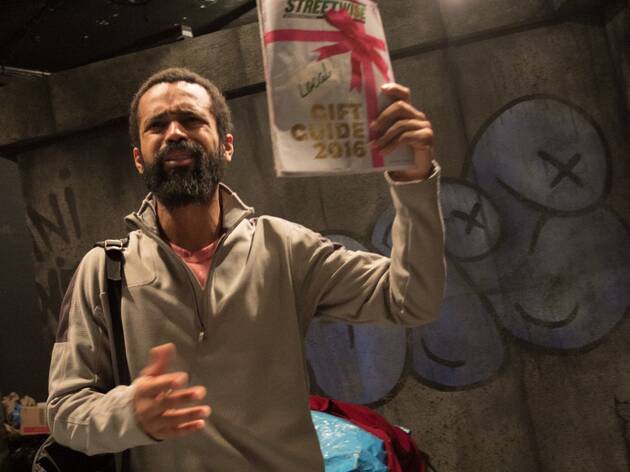 1/3
Photograph: courtesy Congo Square Theatre
Edgar Sanchez in Hobo King at Congo Square Theatre
2/3
Photograph: courtesy Congo Square Theatre
LaMarr J. Kidd and Kyle Smith in Hobo King at Congo Square Theatre
3/3
Photograph: courtesy Congo Square Theatre
Velma Austin and Lyle Miller in Hobo King at Congo Square Theatre
Javon Johnson's new play asks us to see the humanity in the homeless.
Homelessness is a problem most middle– or upper-class theatergoers likely see in their day-to-day lives. Most of us (this critic included) see homeless persons every day—on our way to work, on our way home, when we take our pets or our children to the park—or when we go to the theater. We see them, yes, but rarely do we pay attention to them. In fact, it's usually the opposite; we go out of our way to ignore them. We deny them the same respect that we give to so many others.
It is that respect—to be seen as real, live, three-dimensional humans—that Javon Johnson seeks to confer in Hobo King. And on that count, his play is quite successful. Inspired by true events, the show opens with the all too familiar sight of a policeman shooting an African-American man. The victim here is a homeless young dancer named Lazy Boy (Kyle Smith), and his death spurs his fellow homeless people into action. Facing an impending ban on homelessness from city hall, they decide they need to act. At the prodding of one their members, Katrina refugee Slim (Edgar Sanchez, spikily charming), the homeless decide they need to form their own government. So they elect themselves a king: Preacher Man (Lyle Miller), a wheelchair-bound sage who, before he can lead, must confront his own feelings of guilt and hopelessness.
In many ways, however, Johnson seems more interested in sketching out his various characters—their stories, their demons, their dreams—than he is in telling a rousing story. There's Toothpick (Brian Keys), a street musician whose feelings of childhood abandonment and alienation led him to run away from his white adoptive parents; Doodlebug (Lamarr J. Kidd), Lazy Boy's former dance partner, whose dreams of stardom are hobbled by his addiction to heroin; and Blind Man (Lionel Gentle), whose origin story provides one of the play's most powerful, and disturbing, reveals. There's also Freda (Velma Austin, giving a knockdown performance), a pugnacious woman trapped in a loop so horrible it could have come straight from the Greeks. Having had her child taken from her, Freda has a tendency now to steal babies herself. And yet, the amount of grace that Johnson affords her is arguably the most beautiful, humane thing in the whole play.
Still, Hobo King has its flaws, some of which are amplified by director Anthony Irons. Many of the scenes find the characters simply sitting around and talking, which here translates to a kind of listlessness. And the show is never able to integrate the spectral figure of Lazy Boy, who returns quite often to haunt and inspire the living in equal measure. These moments are expressed through dance, but they feel like nothing more than choreography. These interludes feel like a playwright trying to insert something more radical into an otherwise staid, realistic script—but Hobo King is at its best when it's just sitting on the curb, doing the quiet, thankless work of making people see people. That's radical enough.
Congo Square Theatre at the Athenaeum Theatre. By Javon Johnson. Directed by Anthony Irons. With ensemble cast. Running time: 2hrs 15mins; one intermission.