Holland Taylor pays tribute to Texas governor Ann Richards in her new solo show
The Emmy-winning actor spent more than two years researching and writing her Broadway-aimed show.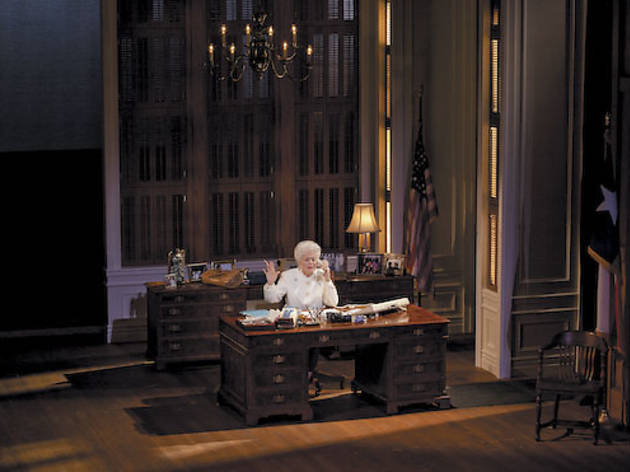 Ann Richards burst onto the national scene in 1988, when the Texas state treasurer gave the keynote address at the Democratic National Convention. The 54-year-old divorced mother of four, with a shock of white hair, a string of pearls and a healthy drawl, won over the crowd with her down-home assessment of then–Vice President George H.W. Bush: "Poor George. He can't help it. He was born with a silver foot in his mouth."
Richards rode the spotlight into the Texas governor's office two years later. "When she won as governor, it was really a cause for rejoicing," says actor Holland Taylor, who might be Richards's biggest fan. "And it was so theatrical at her inauguration! I remember pictures in Time magazine of this really beautiful white-haired woman coming through this arch of swords."
Richards served just one term as governor before being defeated by George W. Bush; she went on to a life in New York City, where she worked as a consultant and was a regular guest on shows such as Politically Incorrect and Larry King Live until her death in 2006. It was in New York that Taylor met her, over lunch with their mutual friend, the gossip columnist Liz Smith.
Though that was their only meeting, Taylor was deeply saddened by Richards's death. "I just found myself unnaturally mournful for too long, as if I knew her," Taylor says at a Loop coffee shop last month. "I thought, She means something to me. As a creative person, I had a creative impulse to do something. I was driving to work one day when I was so struck by the idea to do it as a stage play. She was so alive, and she made a connection with the audience like nothing you ever saw."
Taylor threw herself into writing Ann, the Broadway-aimed solo show she premiered last year in Galveston, Texas. Taylor's years of research and interviews with Richards's friends and associates are evident in the encyclopedic knowledge she displays, passionately imparting details and nuances of the governor's life and career. "For two years, every single break I had from the television show, I traveled to Texas and interviewed people or studied material from the archive."
The television show, of course, is Two and a Half Men, in which Taylor plays the mother of the characters portrayed by Jon Cryer and, until recently, Charlie Sheen. ("Charlie's departure is very sad for all of us," she says evenly, "but Ashton [Kutcher]'s presence is very joyful for all of us.") Though the 68-year-old Pennsylvania native calls theater "my preferred medium, my natural habitat," she has a long résumé of memorable supporting roles in film and TV, often playing women in positions of authority, from Tom Hanks's boss on Bosom Buddies to a tough law professor in Legally Blonde to her Emmy-winning turn as a randy judge on The Practice. She's the kind of character actor you instantly recognize, even if she's not a household name. "I'm never the star," she says.
That's borne out by the man who interrupts our interview to say he's a huge fan, though he clearly doesn't know her name. Taylor graciously thanks him, and exhorts him to come see Ann. But she'd insist she won't be the star there, either; Ann will.
Ann is at the Bank of America Theatre Sunday 13–December 4.