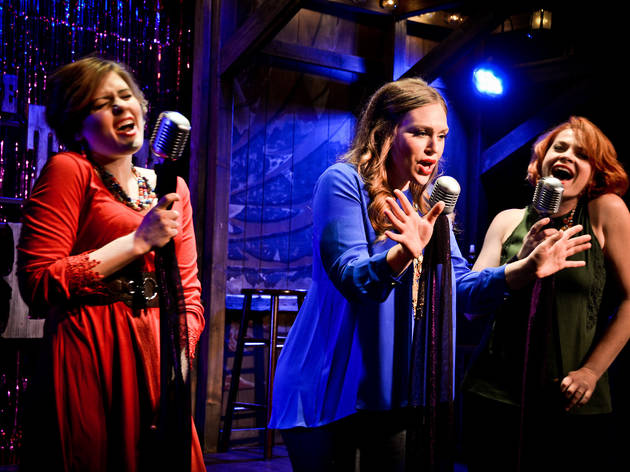 1/11
Photograph: Adam Veness
Honky Tonk Angels at Theo Ubique Cabaret Theatre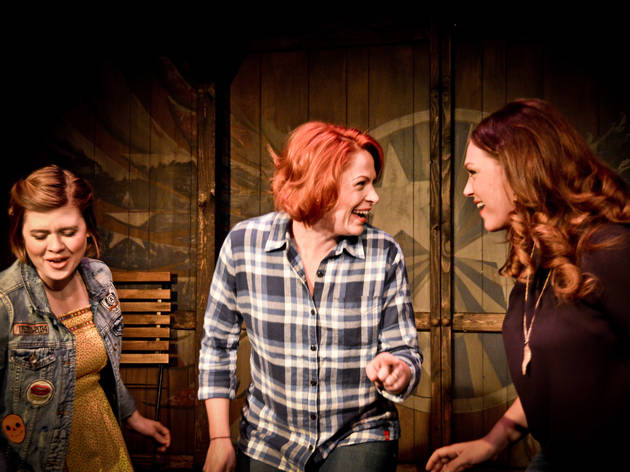 2/11
Photograph: Adam Veness
Honky Tonk Angels at Theo Ubique Cabaret Theatre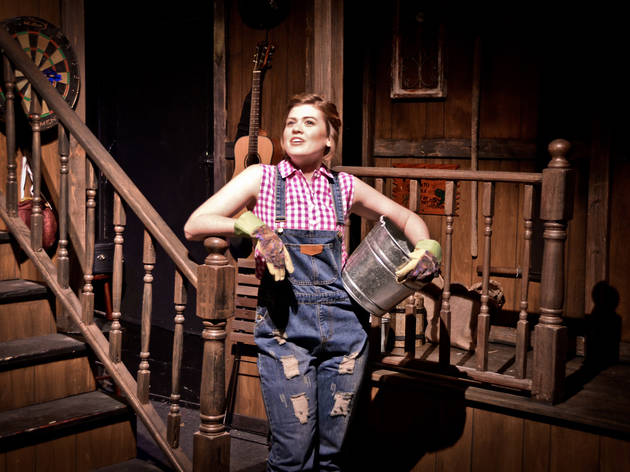 3/11
Photograph: Adam Veness
Honky Tonk Angels at Theo Ubique Cabaret Theatre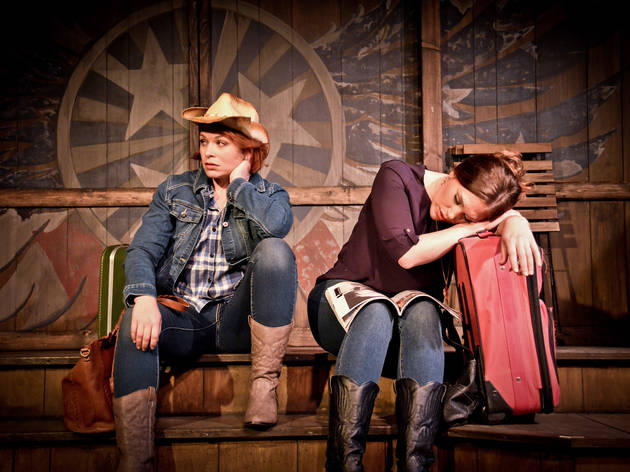 4/11
Photograph: Adam Veness
Honky Tonk Angels at Theo Ubique Cabaret Theatre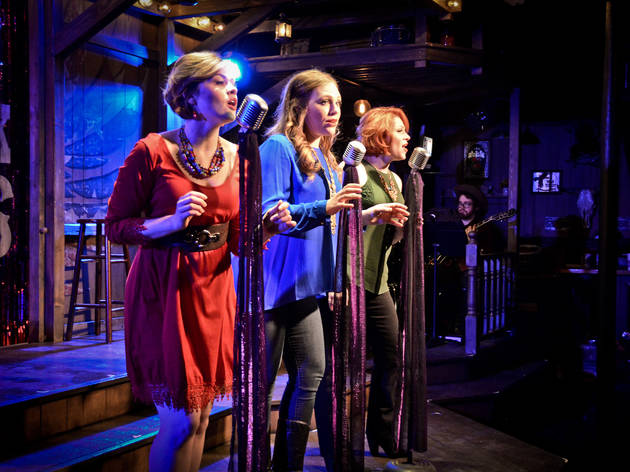 5/11
Photograph: Adam Veness
Honky Tonk Angels at Theo Ubique Cabaret Theatre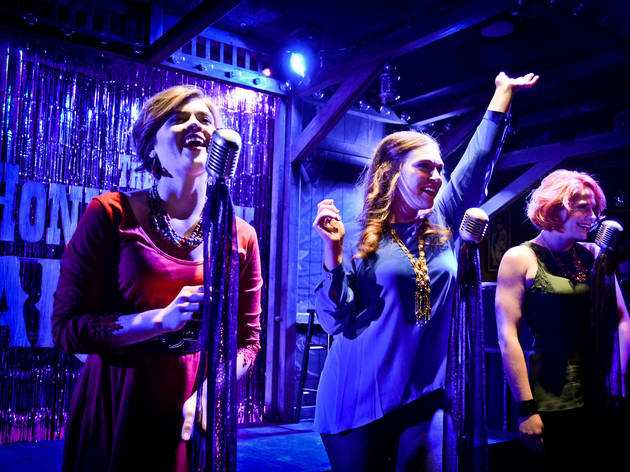 6/11
Photograph: Adam Veness
Honky Tonk Angels at Theo Ubique Cabaret Theatre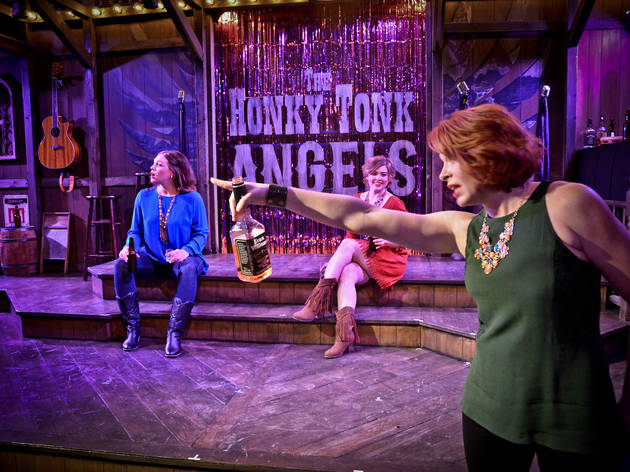 7/11
Photograph: Adam Veness
Honky Tonk Angels at Theo Ubique Cabaret Theatre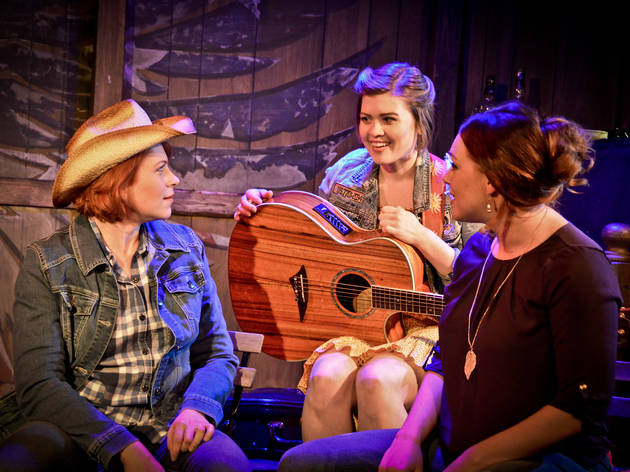 8/11
Photograph: Adam Veness
Honky Tonk Angels at Theo Ubique Cabaret Theatre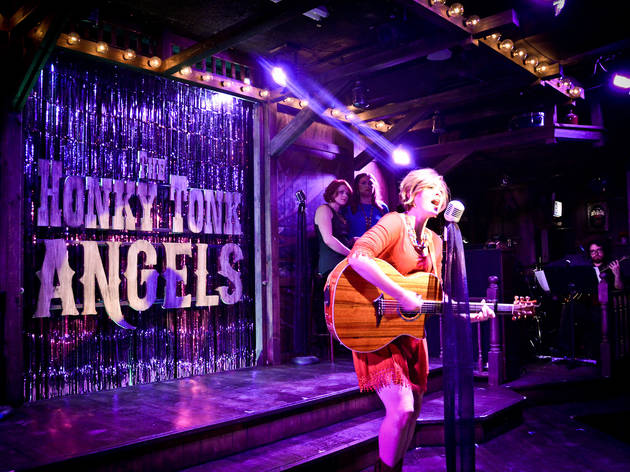 9/11
Photograph: Adam Veness
Honky Tonk Angels at Theo Ubique Cabaret Theatre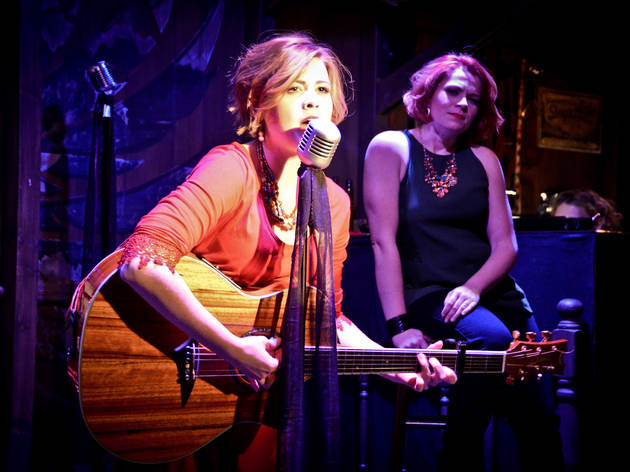 10/11
Photograph: Adam Veness
Honky Tonk Angels at Theo Ubique Cabaret Theatre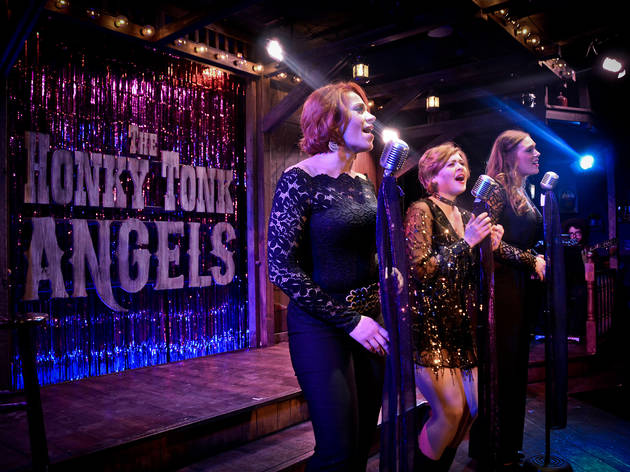 11/11
Photograph: Adam Veness
Honky Tonk Angels at Theo Ubique Cabaret Theatre
The storytelling's left to the songwriters in this unembellished but well-cast country-music revue.
Country music makes a fine companion for musical theater, due in no small part to the lyrical straightforwardness of songs like "Harper Valley PTA" and "Ode to Billie Joe", both of which are featured in Honky Tonk Angels, a jukebox musical from Ted Swindley (Always…Patsy Cline). Directed in Theo Ubique's Chicago premiere by Courtney Crouse, the show features a whole array of country music classics, including "9 to 5," "Coal Miner's Daughter" and "Cleopatra, Queen of Denial," and is able to weave them into a quite a tidy (if cotton-wisp slight) narrative with relative ease. Oblique poetry might win Nobel Prizes, but no-nonsense songs about bad husbands, bad choices and good times still make for a pretty fine evening.
Honky Tonk Angels concerns a trio of country girls, Angela (Colette Todd), Sue Ellen (Jacquelyne Jones) and Darlene (Leryn Turlington), who leave their humdrum lives behind and unite to make it big in Nashville. "Honky Tonk Angels" is the name of their group. That's about it, plotwise. It's a "greatest country hits" playlist, filled out with barely enough dialogue to seed a tweetstorm. And honestly, that's kind of admirable. The show's like a pull of whiskey: no unnecessary mixers or added flavors, just a good, straight shot of the hard stuff. Or to put it another way: They skip all the banter and just sing the dang songs.
All three actresses bring a level of vocal craft and emotional heft to their performances that the songs deserve, even if the show itself may not. They're aided by the cramped confines of Theo Ubique's Rogers Park home, No Exit Café—which, as usual, allows for a conversational intimacy that benefits both performers and audience members alike—as well as by the show's four-piece band, led by music director Jeremy Ramey. If shows like this one live and die on the strength of their performances, then it's safe to say Honky Tonk Angels is alive and kicking.
Theo Ubique at No Exit Café. By Ted Swindley. Directed by Courtney Crouse. With Colette Todd, Jacquelyne Jones, Leryn Turlington. Running time: 2hrs; one intermission.