Hostage Song at Signal Ensemble Theatre | Theater review
Two blindfolded prisoners do the cell block tango in this poignant rock musical.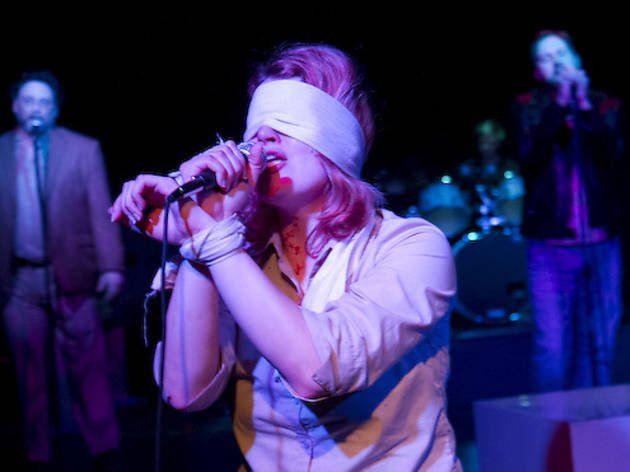 In Kyle Jarrow and Clay McLeod Chapman's 2008 work, lyrics like "Fire in the sky / Blindfold on my eyes" aren't an intriguing metaphor—they're the truth. The titular hostages, Jennifer, a journalist, and Jim, a contractor, have been captured in an unnamed but presumably Middle Eastern country. To numb their fear and stave off agonizing memories of home, they play games in their cell, from tedious rounds of I Spy to more involved role-playing, playfully acting out bar pickups and dinner with the parents while tied up and unable to see. The duo, portrayed with subtle and gutting force by Steve O'Connell and Simone Roos, shows wry humor in the face of the wrenching knowledge that, at any moment, they're likely to die. Then the blindfolded, bound hostages are handed mics and sing into them achingly. Consider it a grim, melodic and ultimately heartbreaking mash-up of Arcade Fire and A Mighty Heart.
The compounding despair in Jennifer and Jim's cell is diluted by Chapman's book, which inserts lengthy monologues by the hostages' loved ones. And Signal's staging relegates the capable live band to the back of the stage. Thus the songs (a couple of which, despite the bleak context, you want to leave the theater humming) can't quite match the raw intensity of the hostages' connection. If the rock idiom is going to be used, then, well, let's rock. Though undeniably moving to its breathtaking end, Hostage Song is trapped somewhere between a gripping drama about two doomed souls and a less-than-compelling concert.