Heads up! We're working hard to be accurate – but these are unusual times, so please always check before heading out.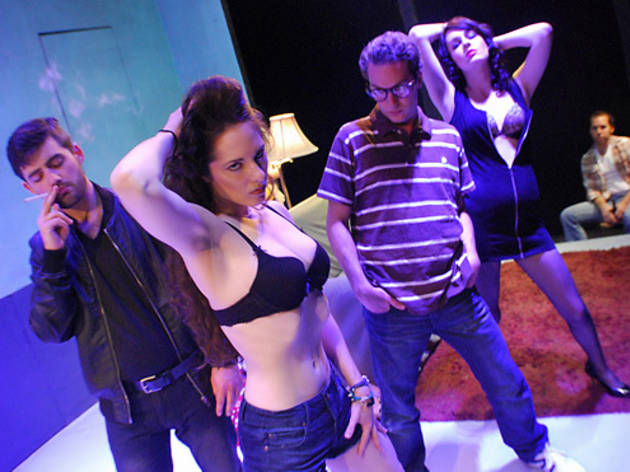 Hot 'N' Throbbing at Interrobang Theatre Project | Theater review
Paula Vogel's fascinating take on erotica and domestic violence gets a scintillating storefront revival.
Halfway through Interrobang's outstanding production of Paula Vogel's 1994 drama, my hands were sweating, my heart was racing, and I was light-headed. It felt uncomfortable, but not wholly unpleasant. Jeffry Stanton's intense staging of Vogel's erotic, violent play is exhausting, yet thoroughly satisfying.
Charlene (a magnificent Christina Hall) is a writer of "erotic entertainment designed for women," and she has a deadline. She's struggling with writer's block while her kids argue on the couch, refusing to respect their mom after learning of her occupation. Charlene's professional life bleeds into the domestic through two of her script's characters (Griffin Sharps and Casey Wortmann), who linger onstage for almost the entire show. Initially giving voice to Charlene's fantasies, the fictional, sexually charged duo begins to take control of the action when Charlene's abusive ex-husband, Clyde (a perfectly boorish Matthew David Gellin), bangs down her front door.
Vogel's script takes an unflinching look at the relationship between erotic entertainment and domestic violence. In Charlene's imagination, she's able to tame Clyde with sex, but when her husband takes control of the story, brutality replaces sensuality. As fantasy and reality bleed together, the lines between stimulation and sadism are blurred. Violently knocking each other around the room or straddling each other on the living room floor, Hall and Gellin have scintillating chemistry. The script constantly questions who is in command; as the production barrels to its shocking finale, it's clear Stanton and his impeccable cast are in complete control.