In the Time of the Butterflies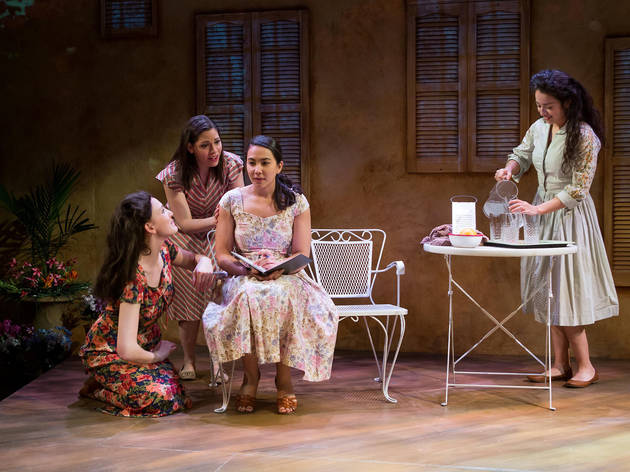 1/4
Photograph: Joel Maisonet
Flavia Pallozzi, Ayssette Muñóz, Rinska Carrasco and Sari Sánchez in In the Time of the Butterflies at Teatro Vista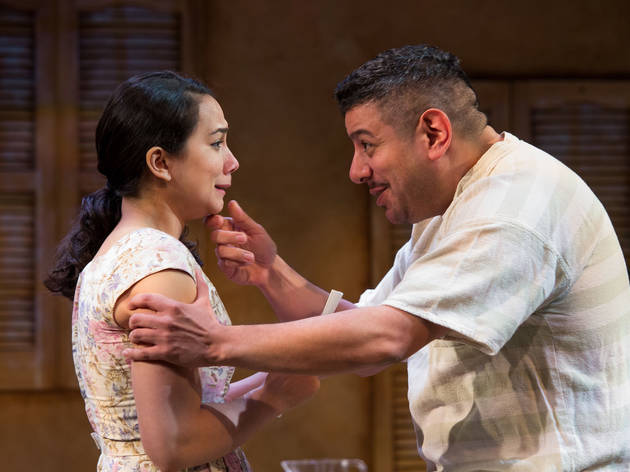 2/4
Photograph: Joel Maisonet
Rinska Carrasco and Eddie Martínez in In the Time of the Butterflies at Teatro Vista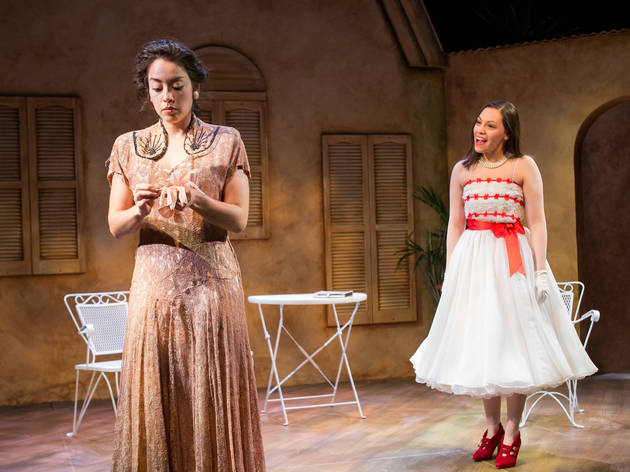 3/4
Photograph: Joel Maisonet
Sari Sánchez and Ayssette Muñóz in In the Time of the Butterflies at Teatro Vista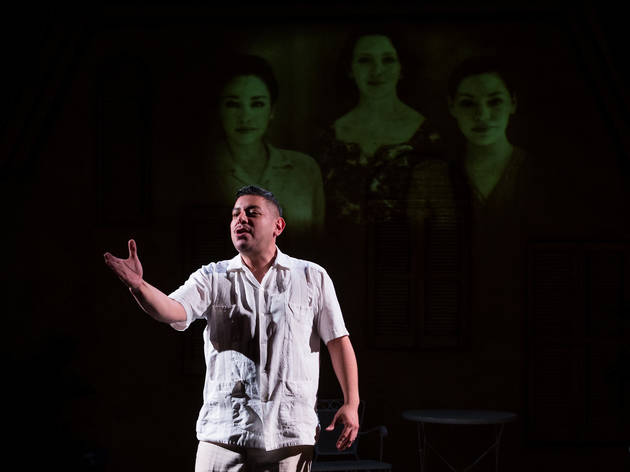 4/4
Photograph: Joel Maisonet
Eddie Martínez in In the Time of the Butterflies at Teatro Vista
Julia Álvarez's 1994 historical novel gets a solid, if uneven, staging.
The juxtaposition of the delicate and the fierce is one of the strongest things Teatro Vista's Chicago premiere of In the Time of the Butterflies has going for it. The stage adaptation of Julia Álvarez's acclaimed 1994 novel contrasts a bloody tale of revolution in mid-20th century Dominican Republic with twirling floral skirts and a sun-soaked garden setting; scenes of torture and sexual abuse with scenes of daydream-filled diary entries; and the sounds of a country under siege with chirping songbirds and smooth merengue on the radio. It's a powerful device for telling the story of the Dominican Mirabal sisters (code name: the butterflies), who were murdered by the Trujillo regime for their role in opposing his dictatorship. It's also the device that keeps this production from being as impactful as it could be.
As sisters Patria and María Teresa, Sari Sánchez and Ayssette Muñóz use the jarring premise to their advantage, layering their performances with emotional subtlety and evolving motivations. Flavia Pallozzi and Rinska Carrasco, playing sister Minerva and dual roles as sister Dede and an American writer, respectively, struggle to achieve the same precision. Caridad Svich's often poetic script requires particular care in order to come across as natural dialogue or monologues, and the latter two actresses, playing more prominent parts in the storyline, never really find that balance between flowery language and authentic feeling. The unevenness pops up elsewhere throughout the show, in abrupt backstory development and heated exchanges that feel out of context.
Dichotomies aside, the play's rich source material and lyrical storytelling anchor it as an occasionally moving, often enlightening experience. With such an interesting chapter of history to tap into, and an intimate space to explore, director Ricardo Gutiérrez's production misses some important opportunities to emotionally envelop the audience. But in its ability to bring life to the inspiring story of the Mirabal sisters, it also succeeds.
Teatro Vista at Victory Gardens Biograph Theater. By Caridad Svich. Directed by Ricardo Gutiérrez. With Charín Álvarez, Rinska Carrasco, Flavia Pallozzi, Sari Sánchez, Ayssette Muñóz, Eddie Martínez. Running time: 1hr 30mins; no intermission.