1/6
Photograph: Michael Brosilow
2/6
Photograph: Michael Brosilow
3/6
Photograph: Michael Brosilow
4/6
Photograph: Michael Brosilow
5/6
Photograph: Michael Brosilow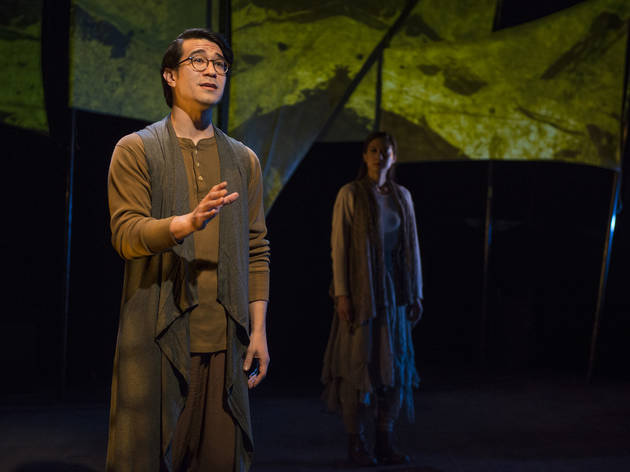 6/6
Photograph: Michael Brosilow
Griffin Theatre looks at American immigrants in their own words.
Attempting to provide an overview of the American immigrant experience in under two hours is a daunting prospect, but Griffin Theatre artistic director William Massolia's attempt is admirable. Using a variety of primary texts including letters and diaries, Massolia chooses a selection of citizens (and non-citizens) to tell snippets of their own stories, with Brock Alter's projections providing additional context.
The result, in Dorothy Milne's solid but undynamic staging, feels rather like a live production of a Ken Burns documentary, with unearthed correspondences providing windows into lives long lost. Yet there's an inevitably rushed feeling as the fine young 13-member ensemble cycles through characters and centuries, hoping to do justice to every wave of new Americans. (They also cycle through a remarkable number of dialects, for which Adam Goldstein deserves huge credit for keeping the actors sounding reasonably authentic throughout.)
Perhaps the greatest strength of In to America's unwieldy scope is the way it serves to illustrate that our country has always been an exercise in contradictions. From the earliest European migrants' sneering descriptions of the "savage" native population to the disgrace of the slave trade to the shameful treatment of a succession of ethnicities—Irish, Italian, Chinese, Japanese—In to America reminds that those in power have always found groups of "others" to demonize and dehumanize. For a so-called nation of immigrants, our xenophobia is a seemingly permanent condition always in search of new targets; it takes a scant few generations for the privilege of citizenship to harden into a God-given right to be denied to others.
Griffin Theatre Company at the Den Theatre. By William Massolia. Directed by Dorothy Milne. With ensemble cast. Running time: 1hr 45mins; no intermission.