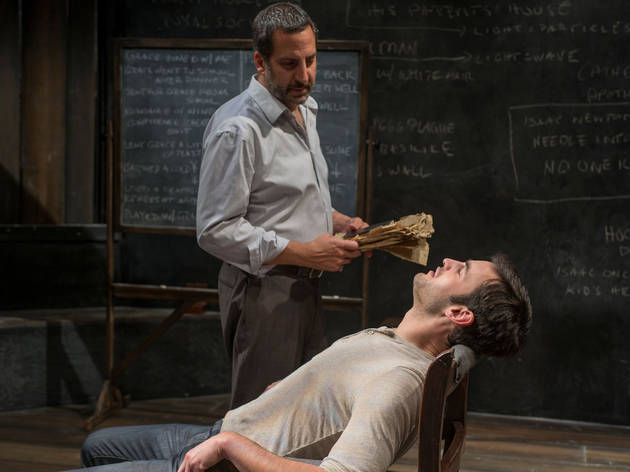 1/6
Photograph: Michael Brosilow
Isaac's Eye at Writers Theatre
2/6
Photograph: Michael Brosilow
Isaac's Eye at Writers Theatre
3/6
Photograph: Michael Brosilow
Isaac's Eye at Writers Theatre
4/6
Photograph: Michael Brosilow
Isaac's Eye at Writers Theatre
5/6
Photograph: Michael Brosilow
Isaac's Eye at Writers Theatre
6/6
Photograph: Michael Brosilow
Isaac's Eye at Writers Theatre
Writers Theatre at Books on Vernon. By Lucas Hnath. Directed by Michael Halberstam. With Jürgen Hooper, Elizabeth Ledo, Marc Grapey, LaShawn Banks. Running time: 2hrs; one intermission.
Theater review by Kris Vire
Playwright Lucas Hnath's playful portrait of Isaac Newton begins with a narrator figure introducing us to the bygone concept of "aether," to which the young Newton was an adherent. Introduced by Descartes, it proposed that all bodies are connected by an omnipresent unseen medium—the aether—that accounted for the transmission of force between bodies at a distance. It connected the dots.
Hnath similarly hypothesizes a fanciful tale that connects a set of known facts—including that Newton once, for reasons unknown, stuck a needle into his own tear duct. But so as not to mislead us, everything that comes up that's true gets recorded by one of the actors on a giant chalkboard. Anything not on the board is made up.
It's a cleverly presentational set-up, with additional postmodern touches: Young Isaac (Jürgen Hooper), his best friend Catherine (Elizabeth Ledo) and his scientific rival Robert Hooke (Marc Grapey) all speak in modern vernacular and dress in contemporary styles, and the narrator (LaShawn Banks) announces scene changes and slips in and out of playing a character in the story.
Hnath's version of Isaac seems to fall somewhere on the autism spectrum, showing an inability to process the feelings of others or naturally share his own, much to Catherine's frustration. Hooper manifests this in the forced, strangled "yaaay" Isaac emits when he thinks he should register joy.
But it's his divergent form of engaging with the world that enables him to make the connections that he does—a kind of science of intuition. Isaac's Eye is the socket into which he sticks that needle, but it's also his way of seeing, which he thinks is a direct gift from God: "My eye sees more than it should see."
All of this, combined with winning performances and Michael Halberstam's intelligently paced staging, make for a brisk, engaging first act. Yet in the second, Hnath veers conventional, assigning left-field actions and behaviors to his characters that read like betrayals of his thorny creations.
There are still spikes of electricity to be found here, as when Catherine is able to read Hooke like a novel: "You're one of those people who reek of their story." But the latter half feels like a new experiment, and one with diminished vision.