Jeff Awards 2014: Non-Equity Wing nominations
This year's non-Equity Jeffs give nods to 29 different theater companies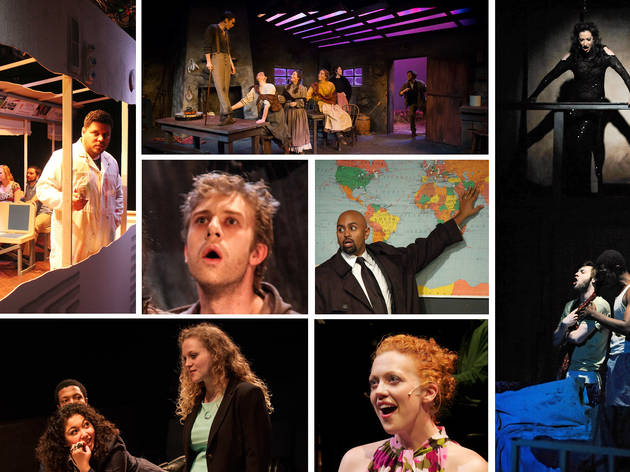 The Joseph Jefferson Awards committee tonight announced the nominations for the 41st annual Non-Equity Jeff Awards, honoring productions opening between April 1, 2013, and March 31, 2014. Bohemian Theatre Ensemble and Oracle Productions led with the most nominations per company, at 12 and 11 respectively, while Bailiwick Chicago's Dessa Rose garnered the most nominations for a single production, with eight.
All told, the 127 nominations in 24 categories are split among 29 producing companies, though there are several heavy hitters: Raven Theatre, Griffin Theatre Company, Lifeline Theatre, Steep Theatre Company and Theo Ubique Cabaret Theatre each raked in seven or more nominations, which is par for the Jeffs course for those companies in recent seasons. New to the party this year is Kokandy Productions, which in its first year of eligibility refocused itself on musical theater, a move that paid off with eight nominations split between its productions of The Last Five Years and Sweet Smell of Success.
There are, as always, the conspicuous omissions, the most surprising of which for me is the Hypocrites' Into the Woods—in my opinion the best of the company's four eligible shows this year, but the only one to come away without a single nomination.
And there are those that you realize never had a chance: Despite winning last year's ensemble award for Idomeneus, Sideshow Theatre Company found all four of its eligible shows this year—Maria/Stuart, The Burden of Not Having a Tail, 9 Circles and The Golden Dragon—snubbed by the Jeffs' opening night judges, and thus ineligible for nominations.
And other ambitious fare, such as Pavement Group's Harry and the Thief, Broken Nose Theatre's ROOMS: A Rock Romance, Buzz22 Chicago's Ghost Bike and Walkabout Theatre Company's The Wild, were never seen by Jeff judges because the companies aren't old enough or produce too sparsely to meet the committee's eligibility rules. We've all gotta have parameters—none of us can see everything onstage in this city, try as we might—but it's a shame to see such worthy pieces left out of the running entirely.
Still, JoJeff did show an adventurous streak this year alongside his penchant for naturalistic period dramas and realistic scenic designs. With multiple nods to more out-there works like Oracle's The Mother and Pink Milk, Red Tape Theatre's The Life and Death of Madam Barker and Trap Door Theatre's The Core of the Pudel, plus healthy doses of off-kilter pieces in the New Work and New Adaptation categories, this round of nominations will make for an interesting mix at the Non-Equity Awards ceremony Monday, June 2, at Park West. (The Equity Jeff Awards ceremony is held in October.)
The complete list of nominees follows. For productions that were reviewed by Time Out, each nomination links to our original review.