Jitney at Court Theatre | Theater review
Ron OJ Parson helms a moving revival of August Wilson's portrait of Pittsburgh cab drivers stuck in stasis.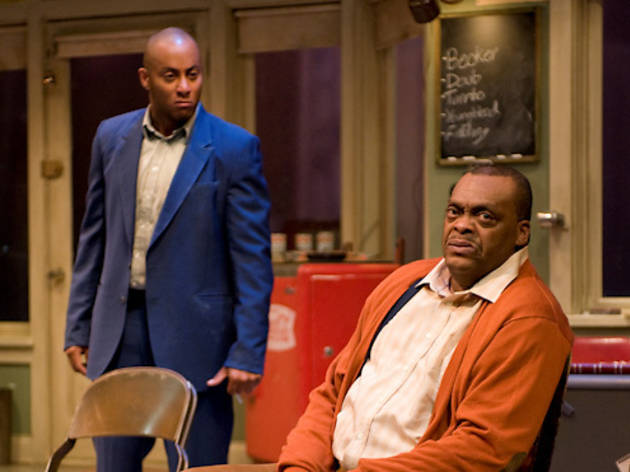 The drivers of Becker's gypsy cab station (he'd prefer "car service") are always taking people to their destinations but can't seem to make any movement in their own lives. When the city decides to board up the station, the men are forced to consider the future, confronting past conflicts that continue to stand in their way.
August Wilson's 1982 drama, the first installment of his ten-play "Century Cycle," is a powerful examination of men in confused stasis. With the coming wave of urban renewal, the fate of the Pittsburgh Hill District is as uncertain as that of the jitney drivers. These men don't just live in the city, they are the city. Ron OJ Parson's production excels at capturing the extensive history this makeshift family has shared on the streets.
The relationship between Becker (A.C. Smith) and the older men of the station is relaxed and familiar, but the elder guys respond to the younger generation with a superiority that masks their fear of change. Switching seamlessly from charming to threatening, Allen Gilmore's Turnbo exemplifies that shifting dynamic as he interferes with the life of rookie driver Youngblood (a forceful yet vulnerable Kamal Angelo Bolden).
When Becker's son Booster (Anthony Fleming III) arrives, newly released after 20 years in the penitentiary, the past between father and son explodes into the present with catastrophic results. Finally given the opportunity to express feelings that have boiled under the surface for more than two decades, Smith and Fleming take shots at each other with ruthless ferocity, yet leave their relationship in the stasis that has become so comfortable for these men.