Julius Caesar at Chicago Shakespeare Theater | Theater review
A D.C. setting adds little to Jonathan Munby's murky, noisy take on Shakespeare's Rome.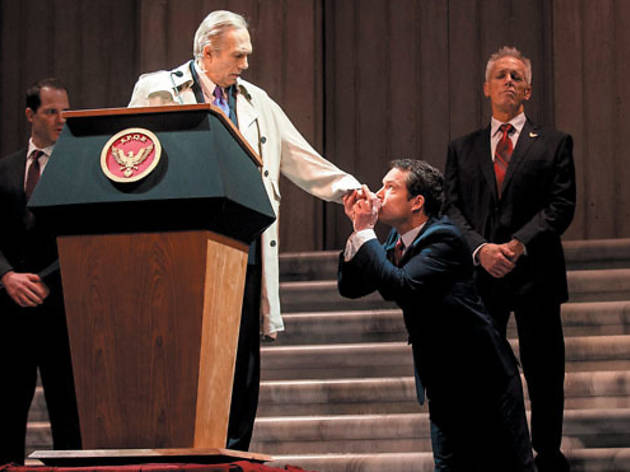 In British director Jonathan Munby's production, Shakespeare's drama of political intrigue is set in a Rome that looks an awful lot like modern-day Washington, D.C. Senators Brutus, Cassius, Casca and the rest are decked out in conservative suits and ties, complete with patriotic lapel pins. Alexander Dodge's scenic design is dominated by massive marble-like steps reminiscent of the Capitol Building or the Lincoln Memorial. Composer Lindsay Jones's snare-drum marches through the play's first half, as the conspirators plan Julius Caesar's murder, might bring to mind the main theme of The West Wing.
The production opens on a carnival-like crowd scene: Roman rubes decked out in garish team colors (Team Caesar, that is) engage, for some reason, in a country line dance. That's one way to suggest mob mentality, I suppose. The visuals here—along with the malleability of the excitable crowd at Caesar's funeral, when Antony (Dion Johnstone) easily turns them against Marcus Brutus (John Light) seconds after they were cheering him—suggest Munby takes an even dimmer view of the rabble than Shakespeare did. David Darlow's Caesar comes across as a wholly benevolent popular leader, making Jason Kolotouros's Cassius appear all the more malevolent in his plotting. Munby's metaphor holds up decently through Caesar's death, but coherence washes away when he goes full-on action movie for the increasingly loud, indistinct battle scenes between Brutus's and Antony's warring factions. If the director has something to say about American democracy, his campaign isn't getting it across.