Just a Gudahl boy
The ubiquitous classical actor takes on the Bard himself in Timothy Findley's play.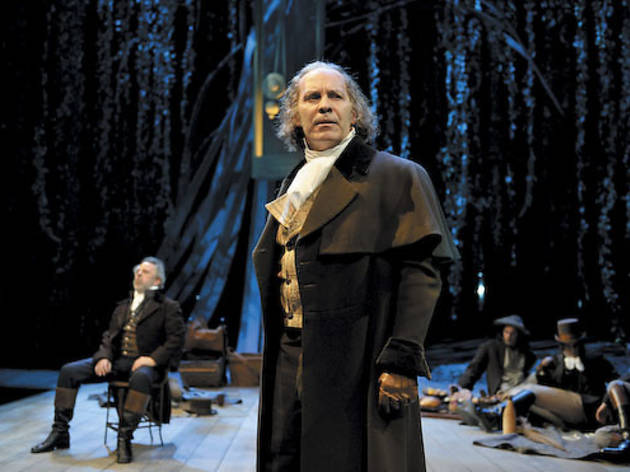 "I always think of myself as the storyteller," Kevin Gudahl says. "It's not about ego, it's not about how many lines I have. The clarity of the story is of the utmost to me." Gudahl's dedication to articulating ideas with precision and intelligence has made him one of Chicago's leading classical actors, particularly in works by Anton Chekhov, George Bernard Shaw and, most prominently, William Shakespeare.
Raised in rural South Dakota, Gudahl got his first taste of performing from singing in church, then being forced by his father into the all-school play. After a brief stint teaching theater at the University of Iowa, Gudahl pursued an acting career in Chicago to gain deeper knowledge of the business for the benefit of his students. He never returned.
More than 30 years later, Gudahl takes on the role of Shakespeare in Timothy Findley's Elizabeth Rex, his 29th production at Chicago Shakespeare Theater. "I suppose there's some pressure about it," Gudahl says during a lunch-break conversation at Navy Pier. "There's nothing I can do about what you might see Shakespeare behaving like or looking like, but it's more about the quality of the man, and I'm going to make that my own."
Described by Gudahl as a mediator among fiery personalities, Shakespeare is an ideal role for the actor, who has a reputation for being a unifying leader in the rehearsal room. "He's a great team player. He's extremely generous and extraordinarily funny," says CST artistic director Barbara Gaines, a longtime friend of Gudahl's since casting him as the lead role in 1987's Troilus and Cressida, her first production with the company. "It is wonderful to have him in the room because he's a riot. It's a great way to break tension and become an ensemble, when you have a leader like that."
"He's a great leader in the company," echoes Gary Griffin, Gudahl's director in musicals such as Passion and Pacific Overtures, the latter of which took Gudahl to London with its transfer to the West End in 2003. "He's clearly committed to everything he's working on, whether it's a Japanese fisherman or Henry Higgins. The cast is always inspired by what he takes on and his process."
Gudahl breaks that simple but effective process into four steps: "Memorize, tell the story well, follow the story, take direction." Described by Gaines as "a director's dream," Gudahl brings his own ideas to the table but welcomes experimentation. "The greatest thing about Kevin is you can suggest anything to him, and he'll take your 'what if ' and make you look like a genius," Gaines says.
Gudahl, who lives in Rogers Park with his wife and five-year-old son, views himself as a guardian of rich, sophisticated language in a culture where ideas are becoming increasingly simplified. "My job is keep Shakespeare around, and Shaw, and Marlowe. I hope they don't become archaic museum pieces, and that the language would motivate new playwrights to create as complicated ideas in modern culture."
As for the debate over Shakespeare's identity, newly revived by Roland Emmerich's film Anonymous, Gudahl believes that, based on the Bard's keen observations of human behavior, the playwright was most likely an actor. "Even though they claim that Shakespeare wasn't educated enough to write those plays, I would like to think that there is an actor out there who is the smartest person in the room."
See Gudahl's Shakespeare in Elizabeth Rex, in previews now and opening Wednesday 7.