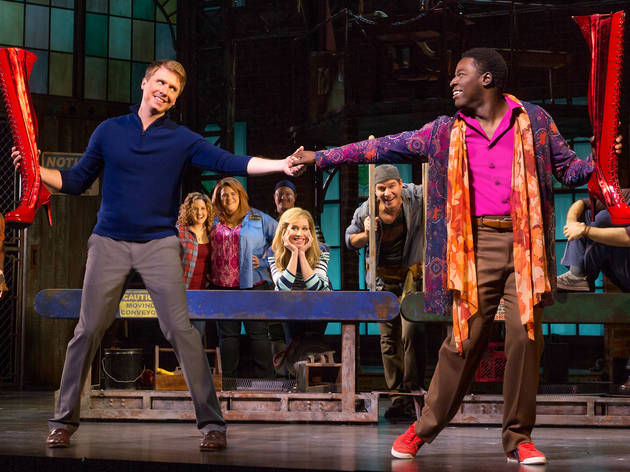 This Tony Award Winner is fun, but more old-fashioned than it thinks it is.
It's not until seven songs in that Kinky Boots kicks it into high gear. The number is called "Sex Is In The Heel" and it is a boozy, cocksure cocktail of disco, dance and divine inspiration. It's everything you're looking for from a show with music (and lyrics) from Cyndi Lauper and a book from Harvey Fierstein. It's a high that the show doesn't reach quite often enough.
Adapted from the 2005 movie of the same name, Kinky Boots won the 2013 Tony Award for best new musical. Lauper also won for best score and her music definitely carries some of that old "Time After Time" magic. Set in England, the show follows Charlie Price's (Steven Booth) plan to save the family business—a shoe factory—by manufacturing high-heeled boots specifically for drag queens after a chance encounter with the fierce and sassy Lola (Kyle Taylor Parker). Charlie soon brings Lola on as a business partner, and the story charts the pair's ups and downs en route to a climactic fashion showdown in Milan. The aesthetic could be described as "C+C Music Factory meets actual factories."
Parker acts the hell out of Lola, fending off the efforts of Lindsay Nicole Chambers, as Charlie's eventual love interest Lauren, to steal the show out from under him. And yet Lola can't help but feel slightly retrograde—an '80s-era gay stereotype dusted off for modern audiences. She might fit right in with Lauper's '80s-era score, but Lola is quite outdated. She's not the kinky boots. She's the old leather shoes.
Cadillac Palace Theatre. Music and Lyrics by Cyndi Lauper. Book by Harvey Fierstein. Directed by Jerry Mitchell. With ensemble cast. Running time: 2hrs 15mins; one intermission.