La Soirée at Riverfront Theater | Theater review
This playful, sexy variety show is a party worth going to.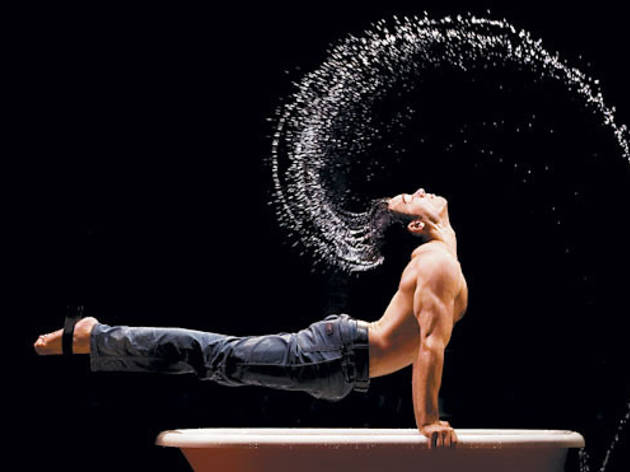 Last summer, the giant tent structure next to the river at the Chicago Tribune's West Town printing plant housed a high-tech production of Peter Pan. This summer it's hosting another London import worth seeing, but you'll definitely want to leave the kids at home. Named Best One-Off Show at this year's inaugural London Cabaret Awards, La Soirée delivers an intimate, unexpectedly sexy variety show packed with unusual and inimitable talent.
Though the massive Riverfront Theater big top gives La Soirée the height its performers need for acrobatic rigging, the show manages to feel remarkably cozy, with seats and cabaret tables brought in tight around the bright red stage, about six feet wide, where most of the acts take place. Those acts range from dynamic duo the English Gents, who strip from dapper three-piece suits down to Union Jack skivvies in the course of their hand-balancing duet, to the delightful Le Gateau Chocolat, a gender-bending operatic diva prone to belting in feather boas or a spandex Riddler outfit.
The pert and playful lineup is heavy on beefcake, what with the Gents, punky aerialist Bret Pfister and the stunning David O'Mer, who makes a splash in the evening's final slot with a number that has him gymnastically gyrating in, and above, a filled bathtub (one wonders if anyone's ever gotten such a workout in sopping-wet jeans). There are sights for those who love ladies, too, including Yulia Pykhtina's gasp-inducing achievements with Hula-Hoops and a specialty bit by Susannah Martinez that combines sleight-of-hand with a fully nude striptease. No attempt is made at anything so formal as a connecting narrative, nor does this seductive collection need one; just let these dazzling performers show you a good time.