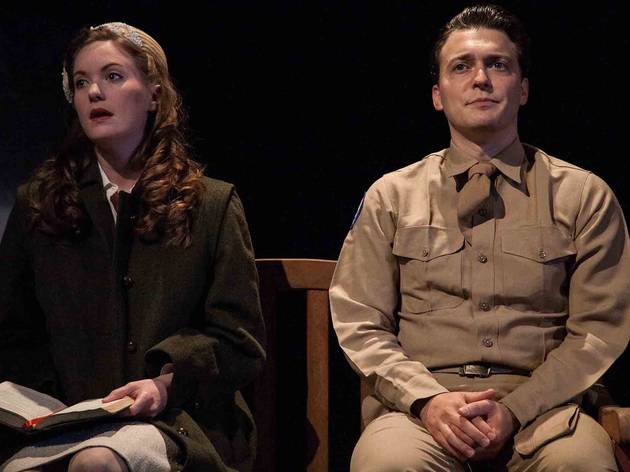 Four souls in flux—two living, two dead—share a ride from Los Angeles to the unknown in Arlene Hutton's quietly affecting two-person drama set in 1940.
Raleigh (Mike Tepeli), a chatty discharged soldier, wears down the defenses of May (Amanda Drinkall), a pious Kentucky-born school teacher. In stowage behind them, coffins containing the bodies of Nathanael West and F. Scott Fitzgerald cast a morbid, if curiously whimsical and romantic, pall over the blooming relationship, setting the tone for Jason Gerace's production.
Gerace's staging for Haven Theatre marks a creative reunion of sorts for Strawdog's much lauded adaptation of Great Expectations, but on a more intimate, more meditative scale. It's a particularly fascinating exercise in subtlety for Drinkall, a radiant and engaging stage personality who here plays a young woman whose conflicts and complexities are very much internalized. Off course from a traditional relationship and finding her own professional way, May's reserved sense of humor and fire burns just as intensely as Drinkall's other characters; what she withholds is just as interesting as what she plays.
Tepeli similarly plays to his charming strengths as a shamed flyer forced to venture down a new path. Hutton's story, built around a fairly stripped and rudimentary will-they-or-won't-they, becomes richer with each time jump forward, revealing setbacks and barriers to how the characters define themselves.
As part one of a trilogy, Last Train percolates at such a low setting that it's hard to imagine the full story sustaining itself with the novella-like air achieved here. As a summer romance, though, it hits all the right pangs; a fitting vehicle for Fitzgerald, indeed.