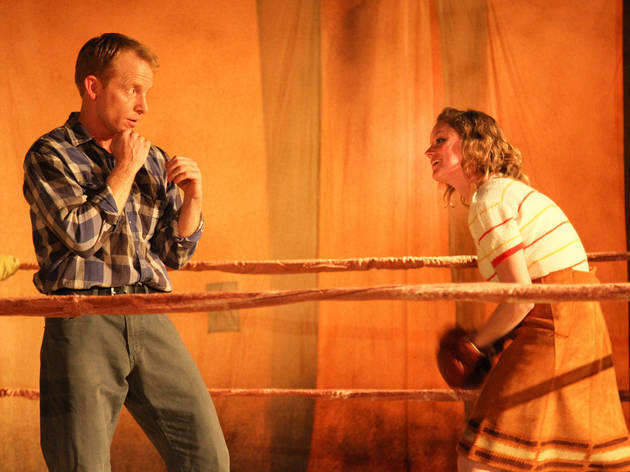 1/4
Photograph: Emily Schwartz
Dan Waller and Jamie L. Young in Lay Me Down Softly at Seanachaí Theatre Company
2/4
Photograph: Emily Schwartz
Dan Waller, Carolyn Klein, Michael Grant and Jamie L. Young in Lay Me Down Softly at Seanachaí Theatre Company
3/4
Photograph: Emily Schwartz
Michael Grant, Jamie L. Young, Dan Waller, Matthew Isler and Jeff Christian in Lay Me Down Softly at Seanachaí Theatre Company
4/4
Photograph: Emily Schwartz
Michael Grant, Dan Waller, Jeff Christian and Matthew Isler in Lay Me Down Softly at Seanachaí Theatre Company
Seanachaí Theatre Company at the Den Theatre. By Billy Roche. Directed by Kevin Christopher Fox. With ensemble cast. Running time: 2hrs; one intermission.
Theater review by Kevin Thomas
Happiness is an honest Irish yarn where you can drink beer in the theater. Lay Me Down Softly is about the denizens of a traveling carnival and their fighting tent, and though set in the early '60s it is old-fashioned in style. The smell of wood and leather rolls off the boxing ring that dominates the stage, and the fortunes, of the makeshift family that runs it. The patriarch, Theo (Jeff Christian), and his old trainer, Peadar (Michael Grant), keep two young fighters in adequate shape to take on the amateur townsfolk who try their luck. When Theo's abandoned daughter Emer (Jamie L. Young) appears at their door, he welcomes her to stick around—but her presence begins to alter their comfortable routine.

A cast that's comedic and melancholic in equal measure charms and invites you to care about a story of small fortunes. It only takes a few minutes before we know the hierarchy of the troupe and the odd tics that define them. I'd believe the whole operation would fall apart if Theo couldn't find a toothpick to gnaw, or if Junior (Dan Waller) couldn't always fix the turnstile.
Billy Roche's script defines the relationships and power between every combination of characters. The arrogant, giggling Dean (Matthew Isler) is the top boxer, but only because the almost-pro Junior has a bad leg to hold him back. They compete for the attention of Theo, who in turn competes for Emer's, who in turn competes for Junior's—while Theo's girlfriend, Lily (Carolyn Klein), competes for attention from everyone. In a space defined by a single shoddy arena, each maneuvers to be his or her own protagonist. Continuous attempts to assert masculinity or femininity are humorously undercut by the outside world; when a former pro boxer comes to the carnival, the cast scrambles to banish him by any means necessary.

Lay Me Down Softly is a happy experience, with its Irish conversation and comical bids for center ring at the low end of the world. There are no apparent heroes or villains, just people wondering what victory means. Is it winning a fight? Is it falling in love? Is it not being where you are? Or is it being happy being nowhere?

Yet critically, the play maintains a subtle edge through its violence. With four trained fighters and two fierce women, there is always the possibility of blows. There's idle talk over what each might fight for, and there are moments of chaos where ugly and pathetic anger has to be held in check. The longer the play goes, there's no question in your mind: The story will turn on when that punch is finally thrown, and what it's for. Lay Me Down Softly saves it for the right reason at the right moment. It turns out there was a hero among them, but you won't know who until the end.