1/7
Photograph: Michael Brosilow
Le Switch at About Face Theatre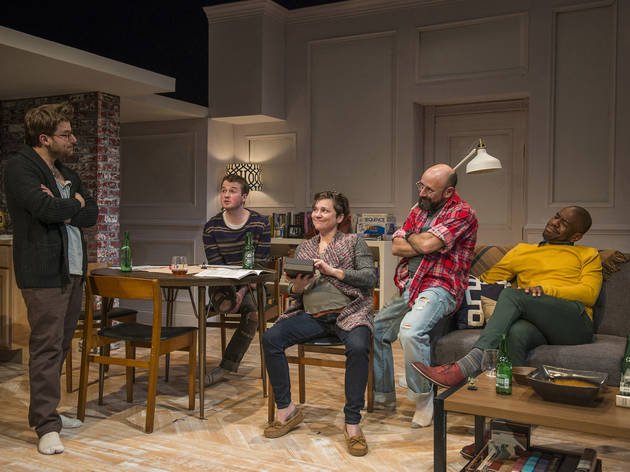 2/7
Photograph: Michael Brosilow
Le Switch at About Face Theatre
3/7
Photograph: Michael Brosilow
Le Switch at About Face Theatre
4/7
Photograph: Michael Brosilow
Le Switch at About Face Theatre
5/7
Photograph: Michael Brosilow
Le Switch at About Face Theatre
6/7
Photograph: Michael Brosilow
Le Switch at About Face Theatre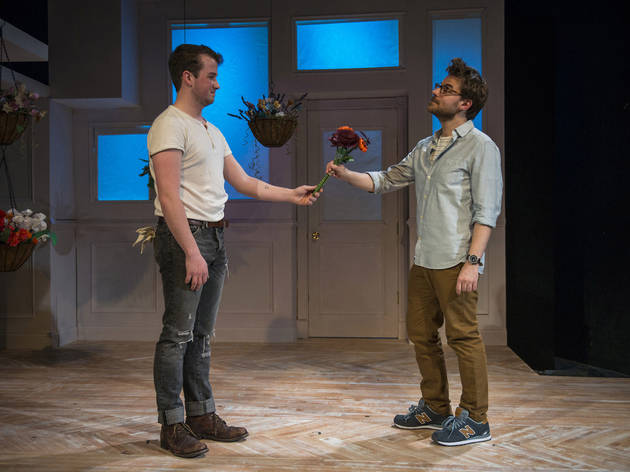 7/7
Photograph: Michael Brosilow
Le Switch at About Face Theatre
A rowdy bachelor party leads to true love in Philip Dawkins's new rom-com.
In any good romantic comedy, lonely-hearted singles capture our interest. Their stumbling toward bliss makes them the unlikely heroes everyone can see as themselves. In About Face Theatre's world premiere of Philip Dawkins's wonderfully smart Le Switch, this hero is David, a cardigan-clad librarian with a need for classification that could make even Melvil Dewey blush. A self-possessed New Yorker, he, like most men, avoids the trappings of a serious relationship at all costs. That's exactly what terrifies everyone around him.
David's need for self-determined singlehood flies in the face of his family—comprised of friends and relations, each of them happily entangled in love's mess. They hound David to join them, pushing him to find someone, but public displays of commitment make him dizzy. In true rom-com fashion, an outrageous bachelor party sets the stage for David's miracle of miracles: true love. What unfolds when David encounters Benoit the florist? A wickedly smart boy-meets-boy story that makes David question everything.
Dawkins's delightfully fun play does more than expand the romantic comedy formula to include gay men; like all good romances, it picks at universal flaws in love and relationships. The wife with an unexpected attraction; the newlywed learning to accept marriage's complications; the widower finding his footing in the world; the naïve kid learning the ways of love—all take smartly measured steps on the stage, thanks to Stephen Brackett's deft direction. He keeps Dawkins's witty intelligence tumbling forward with impeccable timing and earnestness.
That earnestness gives the play a curious quality. In many ways, normativity lies at its heart: the romantic truism that there is one lid to every pot. Even Frank, David's nonconformist roommate, has an elegy on the subject—beautifully delivered by Mitchell J. Fain—that focuses on finding and committing to "the one." But within this binary quest is Dawkins's plea for an open mind. With David, he argues that we should not squeeze ourselves into others' romantic expectations—but also cannot lock our hearts and minds in past thoughts and experiences. We must live on our own terms in concert with the contemporary world.
Those beautiful notions come to life via an all-around lovely cast. First among them: Stephen Cone, who keeps the adorably mousey David from becoming a loathsome stick in the mud. Along with La Shawn Banks's outrageously fun turn as Zachary, Fain's delightfully catty Frank, Elizabeth Ledo's perfectly imperious Sarah and Collin Quinn Rice's charming Chicago debut as Benoit, Dawkins's ideas delight. Even problematic moments, like when love transcends time and space, seem plausible to cynical hearts thanks to this fine ensemble. Le Switch will put a smile on your face and warm your heart—perfect fare for a Chicago winter.
About Face Theatre at Theater Wit. By Philip Dawkins. Directed by Stephen Brackett. With Stephen Cone, Collin Quinn Rice, La Shawn Banks, Elizabeth Ledo, Mitchell J. Fain. Running time: 2hrs 15mins; one intermission.