Libro abierto
Playwright Tanya Saracho has nothing to hide. Just ask.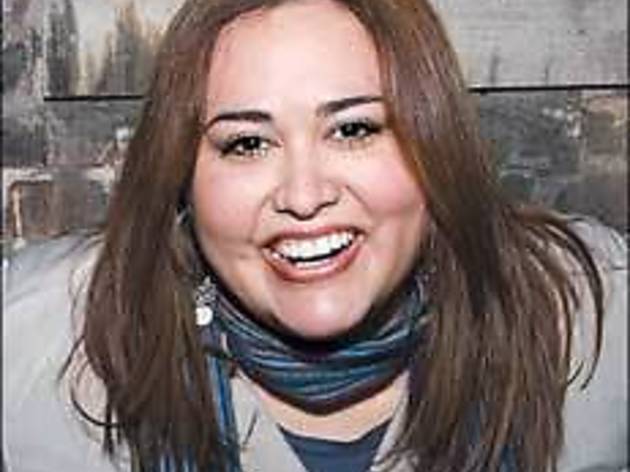 It happens a few times. Tanya Saracho makes a tantalizing disclosure, then looks askance at my tape recorder, reluctant to say more. Take, for instance, her gig as a phone-sex operator. The 30-year-old actor-playwright, born in Los Mochis, Sinaloa, Mexico, demonstrates a sample from her voiceover work: a Spanish-language version of Nintendo's squeaky Pokémon. "I'm obsessed with accents," she says. But when asked how she first got into voiceovers, Saracho—a double-espresso force who often begins the second sentence before she's finished the first—clams up. "I don't want to tell you," she says.
Yet with only the gentlest prodding, Saracho tells all: One of her phone-sex regulars happened to be a West Coast theater administrator, who was so impressed with her vocal talents he suggested she do voiceovers. (Saracho switches to the whispery, heavily accented "Carla": "You know who Carla is, right? The spicy Hispanic?")
It's like this, talking with Saracho. You feel she's opened a window onto her life just for you, then realize that Saracho's window is almost always wide open. Regardless how personal—the breast reduction her father made her get when she was 15 ("He didn't like the way men would look at me"), the stomach stapling he demanded when she was 20 ("I'm the only big one [in my family], and my dad couldn't stand it")—everything in Saracho's life is fodder. Much of it shows up in the plays (many of them monologues) that spill out of her, she says, like diarrhea: "Whenever it hits me, I have to get it out."
A politician's daughter, Saracho grew up along the Mexico-Texas border, "this hybrid culture," she says, where people might grocery-shop in Mexico but clothes-shop in Texas. With Mexico's near-nonexistent middle class, "you've got here," Saracho says, raising one hand, "and you've got here," and she lowers the other. Saracho's family—who had a 12-year-old maid when Saracho herself was 12—resided on the higher hand. By her teens, she lived in McAllen, Texas, where the kids made fun of her accent. So one day she answered a flyer for a speech class; only once enrolled did she realize it wasn't speech therapy but drama.
After getting her theater degree from Boston University, Saracho moved to Chicago, but she couldn't find bilingual Latina actors to perform her plays. "Ridiculous. A quarter of this city is Latino. Where was the community?" With typical pluck, Saracho formed her own. In 2000, along with Coya Paz, Saracho cofounded the all-Latina Teatro Luna, an ensemble whose audiences consist mostly of Latinos, other people of color and queers. "We sell out our shows because we write about them," she says. Amazingly, the troupe survives mostly off its $15-ticket sales.
Saracho's latest monologue-form work, Quita Mitos ("myth remover"), concerns three Mexican-American women who, like the author, speak an English-Spanish mix. "That's a very border thing," she says. (Saracho performs half the shows of the run, while three actors perform the other half.)
In Quita Mitos, Saracho dramatizes the first-generation experience of being neither fully of the migrant culture nor fully of the adopted culture. That betweenness is especially true of the woman who so badly wants to pass as American that she rejects her Mexican mother. "I hate her," Saracho says, flatly. Even so, that character has elicited the most comments: "I've gotten a lot of, 'I don't want to say it, but I feel that way.'?"
Then there's "the elitist," who doesn't like to be served by white Americans "because they don't know their place"; she's also mistaken as her fair-skinned child's nanny. Saracho says seven Chicago Latinas told her they had the same experience. (Describing the third character, Saracho uses a Spanish word starting with p, then cautions me: "I can say it, but you can't.")
Of future projects, Saracho mentions an interview-based work on women who've had elective surgery. Which brings us back to Saracho's own. At first she didn't want to divulge any details, but now she's tracing lines along her torso, indicating her surgery scars. "It's like a road map," she says. Soon we're talking about her ex-boyfriend of seven years, "a nice African-American personal trainer and the most gorgeous boy you'll ever see." But as we get into her single status, Saracho grimaces at the recorder. "Turn it off?" I ask. She nods, and this time I do.
Quita Mitos plays the Viaduct.