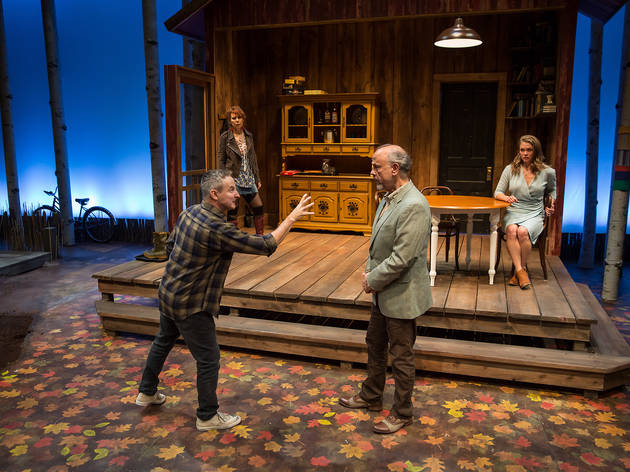 1/10
Photograph: Liz Lauren
Life Sucks at Lookingglass Theatre Company
2/10
Photograph: Liz Lauren
Life Sucks at Lookingglass Theatre Company
3/10
Photograph: Liz Lauren
Life Sucks at Lookingglass Theatre Company
4/10
Photograph: Liz Lauren
Life Sucks at Lookingglass Theatre Company
5/10
Photograph: Liz Lauren
Life Sucks at Lookingglass Theatre Company
6/10
Photograph: Liz Lauren
Life Sucks at Lookingglass Theatre Company
7/10
Photograph: Liz Lauren
Life Sucks at Lookingglass Theatre Company
8/10
Photograph: Liz Lauren
Life Sucks at Lookingglass Theatre Company
9/10
Photograph: Liz Lauren
Life Sucks at Lookingglass Theatre Company
10/10
Photograph: Liz Lauren
Life Sucks at Lookingglass Theatre Company
Playwright Aaron Posner delivers another delightful Chekhov riff at Lookingglass.
Most Chicago audiences probably know Aaron Posner from the astounding production of The Tempest that he co-directed with Teller (of Penn and Teller) last year at Chicago Shakespeare Theater. But others will know him from the punk rock squall that was Sideshow Theatre's wonderful production of Stupid F*cking Bird, Posner's adaptation/response/reimagining of Anton Chekhov's The Seagull. Now Posner has done the same for Uncle Vanya with Life Sucks, now playing at Lookingglass. The play defies traditional categories like "comedy" or "drama", so let's just settle for calling it "fantastic."
Life Sucks is set in the modern day, taking place on the rustic country estate shared by Vanya (Eddie Jemison), his niece, Sonia (Danielle Zuckerman), and their two lodgers, Babs (Barbara E. Robertson) and Pickles (Penelope Walker). The play begins with the arrival of two guests—Sonia's father, a tiresome professor of semiotics (Jim Ortlieb), and the professor's beautiful, much younger wife, Ella (Chaon Cross). Vanya is in love with Ella, as is his best friend, Astrov (Phillip R. Smith), an alcoholic doctor. This could be called a love triangle, but it's more like a love/hate/existential despair/ennui non-isogonal heptagon. Y'know, just like real life.
As in Vanya, the plot moves at a leisurely pace, mostly because these characters are world-class thinkers, talkers and kvetchers, but rank amateurs at actually doing stuff. The play is chock-full of funny, absorbing diatribes against subjects such as exercise, sexual longing, and the ability for (or curse of) abstract thought. His characters, especially Jemison's explosive Vanya, are experts at saying just the right thing to piss each other off. Director Andrew White treats the play and his first-rate cast like a group of jazz musicians. Everyone takes their turn, responds in kind, and feeds off the same collective spark.
Oh, you should probably be ready for some light Q&A as well. Posner's Chekhov plays treat the fourth wall like a shower curtain, one that the characters frequently pull back to interrogate their silent observers. And they really do interrogate. Know that when a character in the play asks the audience a question, they expect to hear an answer.
Lookingglass Theatre Company. By Aaron Posner. Director Andrew White. With ensemble cast. Running time: 2hrs 15mins; one intermission.